Google's latest step in climbing up the online music business ladder, competing against the likes of Apple and Amazon, has resulted in the acquisition of online music streaming service Songza, according to a Reuters report.
New York-based Songza is a unique streaming service that offers contextual "expert-curated" music playlists. These lists vary depend upon users' activities, mood, and taste at the time of listening. It also senses the weather, location, and even the user's time of day to suggest curated playlists such as "Classic Pop Wake-Up Call" or "Mello Escapist Evening." The radio-style player, which anticipates the kinds of music users may want to hear, is currently available through its own website, iOS and Android devices, and also via Google's own Chromecast streaming HDMI dongle.

Although financial terms of the deal were not disclosed, it is rumoured that Google has offered to acquire the music streaming startup for $15 million. However the price tag may have risen with the possibility of competitors trying to approach Songza. Songza's service for current users will remain unchanged for the time being.
"We can't think of a more inspiring company to join in our quest to provide the perfect soundtrack for everything you do," said Songza in a statement. "No immediate changes to Songza are planned, other than making it faster, smarter, and even more fun to use. In the meantime, we'll be walking on sunshine."
With all of Songza's employees set to continue to work from its base in NY, Google will be integrating the company's focus on context to its own Play Music with an emphasis on playing to listeners "the right music at the right time." It also plans to bring similar features to YouTube and other Google products. Human curation could be a big selling point if combined correctly with Google's own services, since many popular streaming services such as Pandora and Spotify are all said to rely heavily on computer algorithms.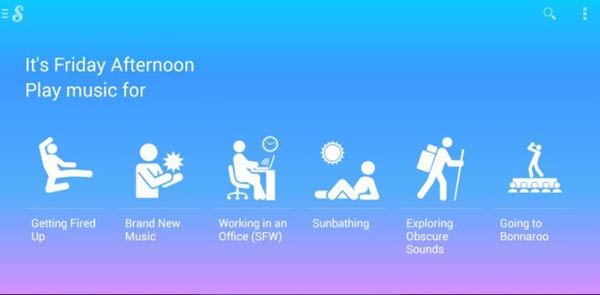 "There are very few services that people want to tell exactly what they're doing at any given moment," Songza Chief Executive Elias Roman said in an interview with CNET. "The thing that's really important is the ability to use data in a way that makes people's lives better."
The news comes a month after Apple's acquisition of Beats Music for $3 billion, a service which also touts curated playlist features. That was Apple's much pricier move to heighten its position in the music streaming segment – but it did get the music accessories hardware stuff too.
Songza launched in 2007 and has since raised a total of $6.7 million in funding. It has grown to serve 5.5 million active users although it is unknown how many are paying the $0.99 weekly ad-removal subscription fees.