Google has recently updated its Street View features to allow users to add and create their own Street View experiences. The new tool allows users to create a Street View of any place they like and share it using Google Maps by using photos taken by an Android phone or digital camera. Users will be able to connect various photos with photo sphere and navigate between them on Google Maps once their 360º virtual tour is published.
Aside from capturing places the Street View camera can't go, this will also allow users to document varying weather conditions or events at a specific location. "Whether you're photographing exotic islands or your favourite neighbourhood hangout, mountain peaks or city streets, historic castles or your own business, we're thrilled to see the places you love coming to life on Google Maps," said Evan Rapoport in Google's blog post.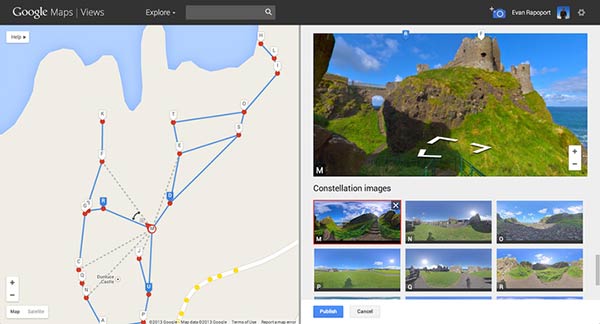 Google also claims that the new feature will open up many possibilities including projects such as; helping environmental non-profit organisations to record and promote the beautiful places they strive to protect, a new tool for photographers to showcase the diversity of a specific scene, or even virtual tours for businesses to attract potential customers.
National Geographic to open cartography archive to Google Maps Engine
In related mapping news reports are that the National Geographic will be sharing over 500 of its specialist maps with the public via participation in the Google Maps Engine public data program. This will allow curious navigators to browse the Nat Geo archive, including historic, travel and reference maps laid over current Google Maps. (see an example below)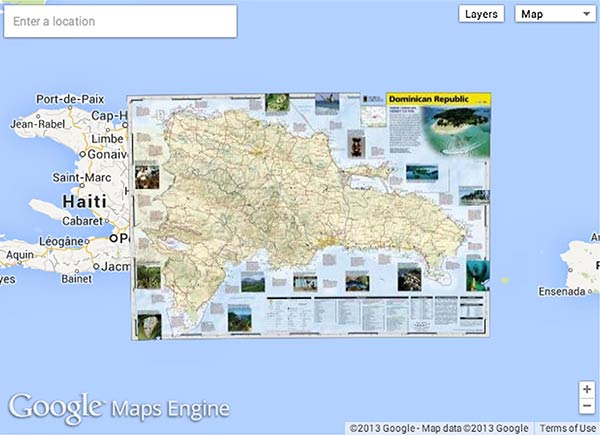 Frank Biasi, Director of Digital Development at National Geographic Map believes that "The public data program gives us the opportunity to release our amazing map collection to the wider world," and that his team "will also use Maps Engine to overlay our maps with interactive editorial content, so the maps can 'tell stories' and raise awareness about environmental issues and historic events."
Wired also reports that plans are in place to sell and license some high-res versions of National Geographic's maps in order to raise funds for its not-for-profit missions.