Market researcher ComScore observed Yahoo push past Google to capture the lion's share of U.S. web traffic in July. This is the first time since 2011 that Yahoo has been ahead of internet rival Google (in the U.S.) as it appears to be bouncing back. The stock markets have looked upon this news favourably and Yahoo shares have risen over three per cent on Thursday, following the news.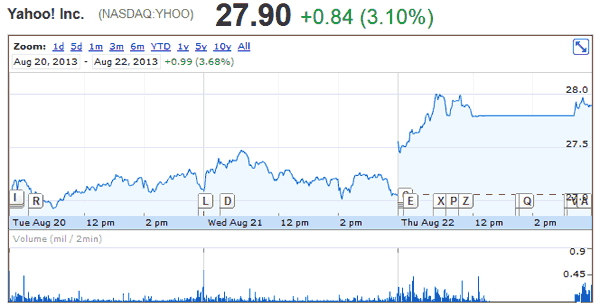 Thursday's share price bump
USA Today reports that when Merissa Mayer left the Googleplex for Yahoo there was a bit of snickering but now she "must be savouring some sort of sweet revenge". Whether that's true or not she must be pleased with the latest ComScore internet data for the U.S. market after her first year as CEO at Yahoo.
| | |
| --- | --- |
| Yahoo U.S. | Google U.S. |
| 196.6 million unique monthly visitors | 192.3 million unique monthly visitors |
| 87.2 per cent reach | 80.6 per cent reach |
| 11.3 per cent search market share | 67 per cent search market share |
| $1.1 billion quarterly ad revenue (worldwide) | $12 billion quarterly ad revenue (worldwide) |
Looking at the table above you can see Yahoo's achievement in winning the eyes of web users is impressive with better numbers and a better 'reach' than Google. The reach figure is an indication of the percentage of web users who visited a Yahoo owned site during the month. However Google's search market share and money making ability put Yahoo firmly in the shade.
In the U.S. Yahoo sites for games, e-mail and real estate are all big contributors to its popularity, according to ComScore. Also it's important to note that visitors to Tumblr, recently acquired by Yahoo, are not rolled into the above data and could have added 38 million visitors to Yahoo's tally. However Google's headline 192.3 million visitors does include YouTube visitors.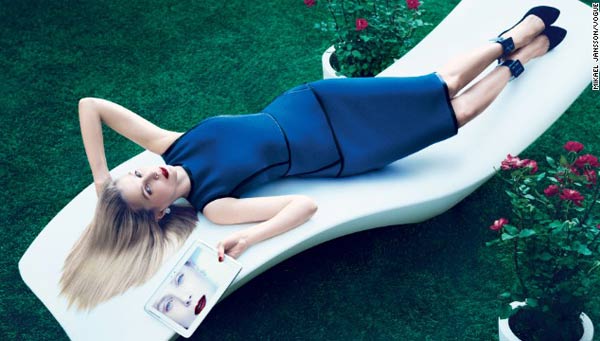 Lying like this helps blood flow to the brain
Apparently mobile figures aren't so stellar for Yahoo currently but this is in Mayer's sights as she pushes to make Yahoo part of more "user's daily habits." Also targeted for an overhaul shortly is the Yahoo Finance section, reports USA Today.
Overall this new Yahoo shares surge helps straighten the upward trend line in the Yahoo share price climb, as it had looked a bit wobbly recently. The Yahoo share price is 80 per cent higher than a year ago.
Other major players in the U.S. unique monthly visitors charts include Microsoft at position 3, Facebook in position 4, AOL at number 5 and Amazon at 6.