Facebook and HTC got together to announce Facebook Home and the HTC First, an hour or two ago, at Facebook's Menlo Park, California HQ. The new Facebook Home software is what I would call an Android home screen replacement suite, with its own user interface, notification system, chat capabilities and app launcher. HTC's new smartphone, called the HTC First, is a thin 4.3-inch screened Android handset which has the Facebook Home suite "baked-in".
Facebook Home
As an introduction to what he was about to reveal Mark Zuckerberg said "We're not building a phone and we're not building an operating system, but we are building something that's a whole lot deeper than an app." Zuckerberg spelled out his vision of a smartphone; he asked "What would it feel like if our phones were designed around people not apps?" This is what Facebook Home is supposed to be about.
The functionality and characteristics of the new Facebook Home software is concisely summed up in the official AT&T press-release "Facebook Home brings your News Feed to the surface, immediately giving you the content you care about right on your home screen when you turn on your phone without having to open an app or access a mobile website".
The Facebook Home suite consists of five main components which are as follows (the first three major features listed below have video links to show you how they work):
Cover Feed: This sounds like an amalgamation of "Cover Flow" and "News Feed". When you wake up your phone Cover Feed is there; a replacement for the standard Android lock and home screens. The official Facebook press release says "Cover feed is for those in-between moments ­like waiting in line at the grocery store or between classes ­when you want to see what's going on in your world".
Notifications: These pop up, showing your friends' profile pictures and can be tapped and attended to or just swiped away for later.
Chat Heads: This is Facebook Home's new messaging system from which chat bubbles up in front of any app so you can keep the chat flowing, no matter what app you're in. It interrupts you but then allows you to easily get back to what you were doing...
App Launcher: A quick swipe up reveals your favourite apps in Facebook's launcher, these apps can be customised from a complete list of apps from your phone.
Instagram: Instagram is part of Facebook Home and will be pre-installed on the HTC First.
You don't need to buy a special phone to use Facebook Home. Users of the HTC One X, HTC One X+, Samsung Galaxy S III, the Galaxy Note 2 and the upcoming HTC One and Samsung Galaxy S 4 will be able to download the app/launcher suite for free from Google Play.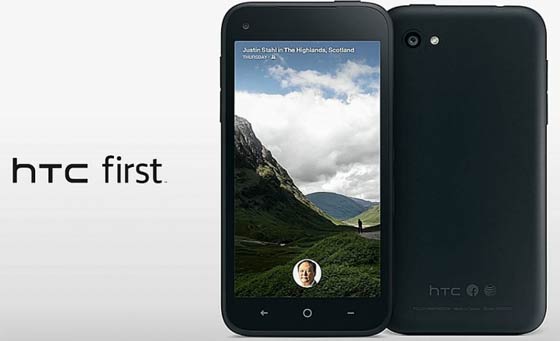 HTC First
Peter Chou of HTC called the HTC First "the ultimate social phone". It will be launched on 12th April to coincide with the availability of Facebook Home on Google Play. The HTC First will feature a 4.3-inch display and it will be powered by a dual-core Qualcomm Snapdragon 400 processor. Facebook's Home will be "baked-in" running over a base of the Android Jelly Bean 4.1 mobile OS. The new phone also has LTE connectivity; at the presentation Orange and EE were mentioned. Importantly for colour-conscious types, the HTC First is available in a choice of black, white, red and pale blue.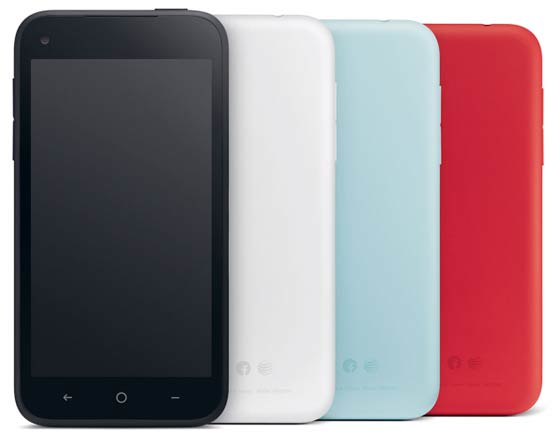 In the US the HTC First launches on AT&T with availability from 12th April, priced at $99. As usual with US headline prices, the price is conditional upon taking out some kind of contract, in this case a two-year contract with AT&T. I don't have any UK contract or SIM-free prices as yet, though it will be with us "this summer" according to The Telegraph.
The stock market has reacted positively to the Facebook Home announcement with a pretty meaty rise of 3 per cent at the time of writing. It must be on the back of the chance of Facebook being able to insert mobile advertising and sponsored posts into many users' mobile phone experiences.