Google Maps has been updated to let you explore some of the largest mountains on earth. The team behind the Google Maps product has been working to include the Seven Summits, the highest mountain on each of the seven continents, into the online map's Street View feature. Of course Mount Everest is included. In related mountainous tech news, this spring British explorer Daniel Hughes will make the first smartphone video call from the summit of Everest, using an HTC One smartphone.
Google Maps Seven Summits Street View
Announcing the upgraded Street View features for the largest mountains on all continents Google said "Most of us have a bucket list of the places we want to visit in our lifetime. If you're like me, the list is pretty long—to be honest I'd be lucky to get to all of mine. Google Maps has a bucket list too, and today we're checking off a couple of our favourites so we can make our map more comprehensive and share it with you. And if tall mountains are your thing, you're in luck."
Uhuru, the highest point on Mount Kilimanjaro
The list of mountains which you can walk/drive around and look around includes Aconcagua (South America), Kilimanjaro (Africa), Mount Elbrus (Europe) and Everest Base Camp (Asia). At Everest you will be able to make the journey from Base Camp and ascend the mountain while enjoying Himalayan peak views and look down upon the Khumbu glacier.
For those who are particularly interested there's a special Google+ Hangout which discusses the work behind these new views.
HTC One at the Everest Summit
British explorer Daniel Hughes aims to place a video call from the summit of Mount Everest using an HTC One smartphone this spring. The purpose of the trip is to raise £1 million for Comic Relief.
Hughes is scheduled to set off in April and reach the Everest summit in mid May. When he arrives at the top he will make a video call, using the HTC One, to the BBC News team. The data connection will be provided by Broadband Global Area Network satellite technology from Inmarsat. He will also place a red nose on the top of the mountain.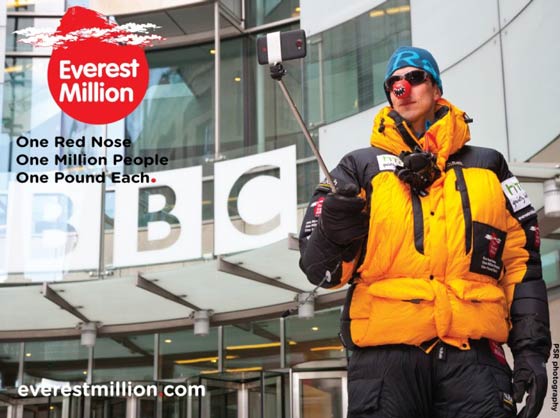 It's pretty cold on the mountain top. It's estimated it will be -35C up there. Hopefully he and the HTC One will operate flawlessly during the video call. Head of HTC UK & Ireland Phil Blair said "As you can imagine, this will be one of the toughest tests conceivable for our handsets. They will have to cope with below-freezing temperatures, changes in atmospheric pressure and more." Good luck to them.