Controversial internet entrepreneur Kim Dotcom held a press conference from his mansion in New Zealand on Sunday to launch his new MEGA cloud storage service. The event, which took place on the anniversary of the takedown of Megaupload, was interrupted by a mock FBI helicopter raid during its first 20 minutes. The service has already proved popular with servers running the service temporarily unable to cope with the spike of demand. The site gained 100,000 registered users within its first hour and a million in the first 24 hours.
The press conference kicked off with a speech by Dotcom about the internet, freedom and innovation. He pulled out a snappy sound bite about the launch date "today is the anniversary of something horrible, but now it is also the anniversary of something wonderful." As the speech came to a conclusion and Dotcom said triumphantly "Nothing will stop MEGA" a fake FBI helicopter and armed forces raid was staged while Kim was surrounded by a throng of glamorous female bodyguards.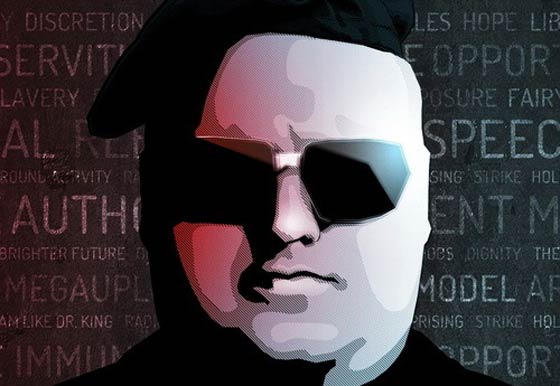 Back to the serious business of the cloud storage service launch, there followed a lengthy Q&A session with members of the audience. Dotcom revealed that Megabox "is still under development and will take at least another six months". On the question of how another Megaupload-style takedown will be prevented Dotcom answered "We have scrutinized every pixel to ensure it's built from the ground up to adhere to the law." Dotcom also said that in the future the storage service will allow content delivery.
Full 1hr 20 minutes press conference here;
Skip forward to 18 minutes for the fake FBI raid following Dotcom's Bond-villain style laughter.
Free membership of MEGA is available and simply for registering with no payment you will earn 50GB of cloud storage – a very similar service to DropBox but with a lot more free space. MEGA emphasises its security and upon registration users get a 2048 bit RSA public/private key pair, no one else gets a copy of these. Paid subscription Professional accounts are available, as you can see below.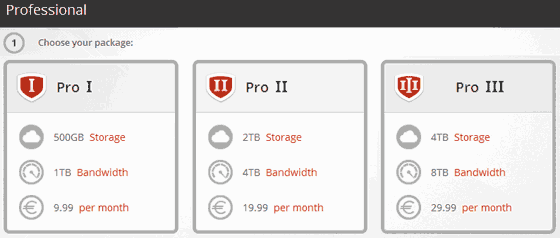 If you are interested in using this new cloud storage service go to mega.co.nz, if you want to have a good read of the T&Cs before signing up you can find them here.