A new study published by the University of South Carolina says that while internet mega-corporations cosy up to film, TV and games media publishers they also rank "among the top 10 advertising networks that support major piracy sites around the world". Both Google and Yahoo network ads can be found "all over the pirate sites". At the time of writing Yahoo has yet to respond but a Google spokesperson insisted that the report conclusions are "mistaken".
The USC report was written to help major brands make informed decisions about their online advertising. One of the report authors, Innovation Lab Director Jonathan Taplin, says he hopes the advertisers will use the information to steer their spending away from sites that exploit illegal downloading behaviour to get large amounts of traffic.
According to The LA Times "Whenever we talk to a brand about the fact that their ads are all over the pirate sites, they're like, 'Oh, how did that happen?'" Taplin said. "We thought it would be easier if they knew what ad networks were putting ads on pirate sites - so they could avoid them."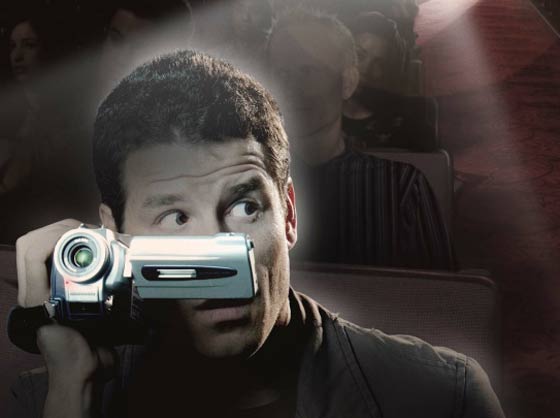 Film cam copyist caught in the act!
The researchers used Google's Transparency Reports of takedown notices and found those site's supporting ad networks. Big-name online advertising networks such as Google DoubleClick, Yahoo Right Media and Quantcast feature among the top 10 "supporters" of these piracy heavy sites.
The top ten ad networks placing the most ads to Pirate sites are:
Openx
Google (including Double Click)
Exoclick
Sumotorrent
Propellerads
Yahoo (including Right Media)
Quantcast
Media Shakers
Yesads
Infolinks
A Google spokesperson has contacted The LA Times to claim the report's suggestion that Google ads are a major revenue source for piracy sites is a mistake. The spokesperson said "Over the past several years, we've taken a leadership role in this fight. The complexity of online advertising has led some to conclude, incorrectly, that the mere presence of any Google code on a site means financial support from Google."
Google has often found itself under scrutiny for linking to pirated content and has to constantly remove links to such material following rights-holder takedown requests. As far as pirates profiting from ad networks is concerned, Google teamed up with PRS for Music on a research study entitled "The Six Business Models for Copyright Infringement" in July last year. That study concluded that a key source of funding for piracy sites was online advertising revenue.