Yahoo's third quarter results are out and the internet search and services company offered better than expected performance figures to investors. Yahoo's revenue was $1.2 billion and it made $0.35 per share in earnings. Investor and analyst prior estimates were $1.08 billion for revenue and earnings per share of $0.26, significantly lower than actual figures. In aftermarket trading the shares are up 3.7 per cent, the New York markets are yet to open as I write.
Yahoo also made a nice bit of income from the sale of Alibaba shares. The Q3 figures "exclude a net gain of $2.8 billion related to the sale of Alibaba shares and restructuring charges of $16 million", so the revenue figures you see in the chart are not skewed by this large lump sum.

This is the first full quarter with Marissa Mayer as CEO. You can see the revenue is nothing special historically for Yahoo (chart from TechCrunch borrowed inserted above) but bucking the negative expectations of investors and analysts is not to be sniffed at. "Yahoo! had a solid third quarter, and we are encouraged by the stabilization in search and display revenue," said Marissa Mayer, CEO of Yahoo! "We're taking important steps to position Yahoo! for long-term success, and we're confident that our focus on quality and improving the user experience will drive increased value for our advertisers, partners and shareholders."
Ms Mayer has spent a lot of time and effort restructuring the management team at Yahoo and included quite a few of her old Google workmates. In a conference call she said she wants to focus Yahoo service on the daily habits of internet users, including mobile. "We're committed to going back to our roots as a consumer internet company focused on user experience, we intend to win" she asserted. Rather than diversify and make more and more Yahoo branded products Mayer wants to improve performance in activities Yahoo already does.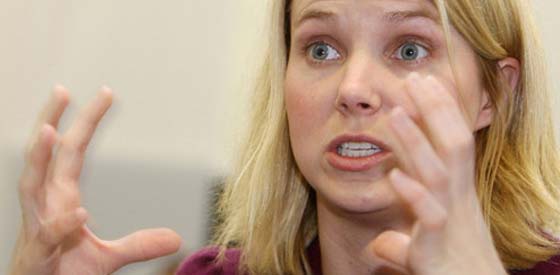 Yahoo makes most of its money from internet advertising and has around 700 million monthly visitors. However people are spending less time on Yahoo and its smartphone efforts have also not been engaging. Macquarie Research analyst Ben Schachter, speaking to Reuters said "The fact that the quarterly results didn't show any massive deterioration was a decent sign, and gives her probably more time." He added that "It's about can Marissa and team execute and that's what it's been about for the past few management teams."
Recently the company pulled out of South Korea as it was too difficult to compete with local rivals. Also Yahoo has cut its workforce by 12 per cent since this time last year to save costs.
Not diversifying but improving may be a slightly subjective goal but the results aren't subjective, measured in cold hard cash by investors. At least for now, due to the "solid" results team Mayer have some more breathing space and time to implement their vision. I think she'll last longer than many predecessors did.