Microsoft is tenaciously pushing Bing and we have seen a growth in higher profile campaigns trying to promote the search engine recently. Check out all the HEXUS Bing headlines; most recently the Bing-It-On challenge and also becoming the default search engine on new Amazon Kindle Fire tablets. The online service division of Microsoft, which unsurprisingly includes Bing, is a black spot in the company's otherwise sound and profitable activities. Now believing that it has a winning product on its hands (through independent research) Microsoft is marketing it accordingly.
Microsoft has a new Bing promotional campaign which takes a big swipe at Google's history tracking of Safari browser users, even if they chose the do not track option. Google made money from targeting ads using this "improperly obtained information". The Federal Trade Commission (FTC) fined Google a record $22.5 million for this Apple Safari deceit. Microsoft's landing page for Safari users hosts the advert, headlined "Google hit with record $22.5 million penalty for improperly tracking Safari users". The page also shows a pair of eyeballs peeping creepily though a venetian blind.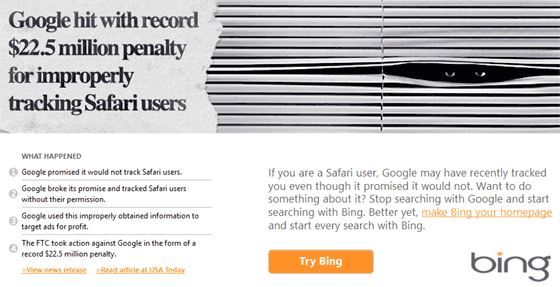 The ad reads "If you are a Safari user, Google may have recently tracked you even though it promised it would not. Want to do something about it? Stop searching with Google and start searching with Bing. Better yet, make Bing your homepage and start every search with Bing."
A Microsoft spokesman told TheNextWeb that Apple Safari users will come across this new "Try Bing" landing page on a variety of sites within its network "This is a limited campaign and the ads will appear online on a variety of sites. We don't have any other details to share."
Google has a history of newsworthy user privacy concerns so this latest Microsoft campaign highlighting privacy issues may not be the last. There have been issues with Google collecting street view pictures and so on but of concern to more computer users are usually the Google T&Cs for its web services like Gmail and most recently Google Drive, allowing the corporation to poke around in your files and more. Meanwhile an article over at NeoWin points out that Bing "has nowhere to go but up" with the impending Windows 8 and Windows Phone 8 releases and is showing strong growth in recent months.