Microsoft is pushing forward with initiatives to make more money out of its Bing online brand. In a move that will bolster and simplify its search advertising offerings the company will allow advertisers to advertise across many popular sites which are part of the new Yahoo! Bing Network. "In addition to Yahoo! and Microsoft Core Search sites, the Yahoo! Bing Network represents partner sites like Facebook, Amazon, Monster, WebMD, CNBC, and Viacom, plus networks like The Wall Street Journal Digital Network," trumpets the newly formed network's website.
Bing Ads is the new name for the Microsoft Advertising adCenter. This will be the tool that advertisers use to manage their Yahoo! Bing Network ads. "Bing Ads is not only a new name, but an improved experience with new features to help you better manage your campaigns and complete tasks faster," says Tina Kelleher, on the Bing Ads blog.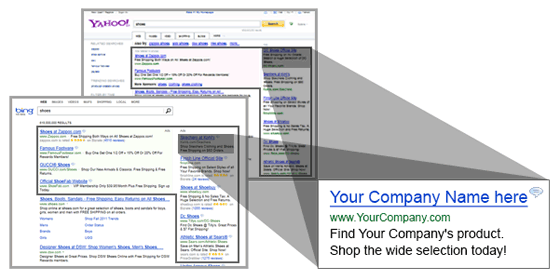 Results from the Bing search engine have powered Yahoo search since July 2009. The new advertising cosying-up seems like a logical progression and will give the partners a stronger offering to advertisers with which to fight off rival Google Adsense, among others. The information supplied by Yahoo! Bing about the advertising potential does make it seem quite attractive. Here are some highlights:
Yahoo! Bing has a 30 per cent share of search in the US
The network reaches 151 million searchers in the US who are likely to spend 24 per cent more than the average searcher
Yahoo! Bing US searchers spend 5 per cent more than Google searchers
You can reach 46 million unique US surfers who don't use Google
Worldwide the new network has "489 million unique searchers, 92 million of whom don't use Google"
Also worldwide Yahoo! Bing searchers "spend 24% more than the average searcher* and 78% more than Google searchers"
More Bing things
Microsoft has been seen to be making more big efforts to thrust Bing upon the unsuspecting public recently. Last week we had the Bing It On challenge, comparing Bing and Google results in a blind "taste test". Microsoft's own research showed that about two thirds of those tested preferred Bing results. Our own HEXUS reader tests weren't so positive.
Also last week it was revealed that Bing would be the default search engine in Amazon's new range of Kindle Fire devices. Microsoft obviously has a financial arrangement with Amazon for the privilege, Google does likewise with Mozilla Firefox and Apple iOS.