Marissa Mayer has poached another ex Google employee to join her to play for Team Yahoo! She has successfully head-hunted Andrew Schulte from Google. He will be joining Yahoo to act as Chief of Staff.
Mr Schulte's profile on Google+, still lists his occupation as "Works at Google", however he has announced there (and on Twitter); "5 life-changing years with +Google flew by! Beyond thrilled to get started with +Marissa Mayer and the whole +Yahoo! team. #thenextchapter" Mr Schulte had worked at Google since 2007 starting in the ad sales department. Before leaving Google he was a Product Marketing Manager working on Google+ marketing campaigns for brands focused on entertainment and politics.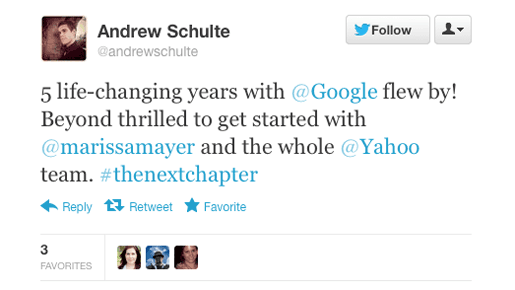 The skills and expertise of the new Yahoo Chief of Staff, as listed upon his LinkedIn profile are as follows;
Digital Marketing
Social Media Marketing
Digital Strategy
Marketing Communications
Corporate Communications
Product Marketing
Celebrity Outreach
Speech Writing
A Chief of Staff acts as a buffer between the CEO and the teams below, solving problems, mediating disputes and dealing with other issues before they get to the CEO. A good Chief of Staff can make the CEO's job a lot easier and leave them to focus on the most important initiatives. Mr Schulte's marketing and communications skills will be vital in this role, also Marissa Mayer will know him personally and be sure of his capabilities.
Meanwhile AllThingsD exclusively reported at the end of last week that Yahoo is looking for a new Chief Operations Officer (COO) to be #2 to Marissa Mayer "with special emphasis on someone with turnaround experience". Kara Swisher at AllThingsD speculates that a COO would make sure all the boring business and financial things were looked after while Mayer worked on new products and innovation. It is going to be very interesting to see how Yahoo has changed when we look back a year from now.