Despite all the free online music streaming services targeted at music fans YouTube has come out tops in a new survey of American teens' favourite ways to listen to new music. Research firm Neilsen's Music 360 Report asked 3,000 people about their music listening and discovery habits and YouTube was the preferred service for nearly two thirds of teens surveyed.
The picture is quite different for non-teenagers where radio is still the dominant new music discovery method. Below is a bulleted list of the key survey findings;
Radio is still the dominant way most people discover music
48% discover music most often through the radio
10% discover music most often through friends/relatives
7% discover music most often through YouTube
More teens listen to music through YouTube than through any other source
64% of teens listen to music through YouTube
56% of teens listen to music on the radio
53% of teens listen to music through iTunes
50% of teens listen to music on CD
Music player apps are most prevalent, followed by radio and music store apps
54% have music player apps on their smartphones
47% have radio apps on their smartphones
26% have music store apps on their smartphones
As Neilsen present just a selection of the the survey statistics it is hard to compare the like for like figures properly. For instance the company shows the listening statistics for young people above but for discovery the results aren't broken down by age group. Also the "insights" in the report don't have any details about if radio is online or over-the-air or both. Also interesting would have been how well the big online services compete with each other; Spotify, Last.fm, Rdio and so on.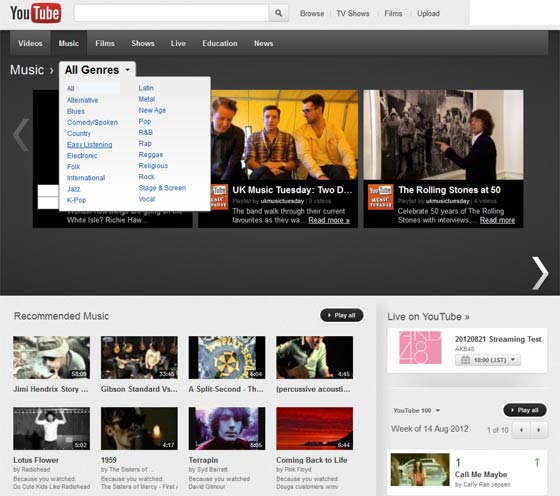 David Bakula, SVP Client Development, Nielsen said of the survey results; "The accessibility of music has seen tremendous expansion and diversification". He also pointed out that "While younger listeners opt for technologically advanced methods, traditional methods of discovery like radio and word-of-mouth continue to be strong drivers. With so many ways to purchase, consume and discover great new music, it's no wonder that the consumer continues to access and enjoy music in greater numbers".
YouTube can't be beat
Speaking to The Daily Telegraph Mark Mulligan, an independent music analyst says that the YouTube music experience is "too good". He thinks that it needs to be pared back so that buying music actually becomes worthwhile "YouTube has transformed what the music buyer's expectations are of what the digital music experience is. In a way it's too good." Said Mr Mulligan, He added that "It is totally understandable that people don't want to pay for MP3s when the experience is poorer than what they get via YouTube"
With most people able to listen and to watch YouTube videos on their PCs/laptops/tablets and smartphones I think it will get even more popular. YouTube has such a great depth and variety of music, it doesn't just contain new music but lots of hard to find old classic tracks and videos like this.