A report from TorrentFreak has shown that since January 2011, Google has begun voluntarily blocking top file-sharing websites from appearing in the company's 'Auto-complete' and 'Instant' search services, as opposed to a handful of piracy-related terms that had been bocked previously.
To be clear, as of yet at least, Google is not blocking websites from normal indexing, rather preventing file-sharing sites from showing up automatically as a user types in their search term, though it has been evident that this has led to a significant drop in searches for the sites in question, which we can demonstrate with a few examples: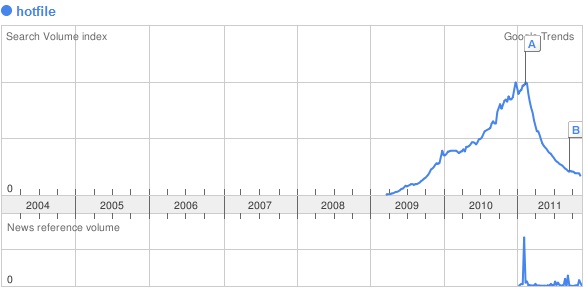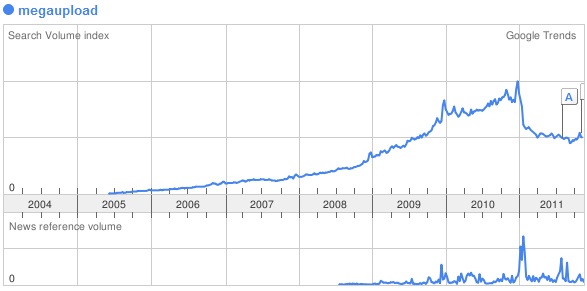 Since January 2011, blocked sites now include more of what Google classifies as 'cyberlocker' websites, such as 4Shared, filesonic, and fileserve. Most torrent related terms are also now suffering from the block.
Whilst there is of course plenty of illegal content to be found on most cyberlocker websites, due to the unmanaged nature necessary to form a successful business model around the idea, there is also an incredibly large amount of legitimate file-sharing taking place on these services. This writer has found himself able to use cyberlocker websites to obtain old manuals or download free Inde software and has used such services to host his own works in the past as a part-time lecturer. Most web-hosts do not permit the use of file-sharing on affordable packages, both space and bandwidth comes at a premium, whereas most cyberlocker websites remain fixed-fee and reasonably priced.
The constant move away from service provider immunity or in Google's case, the feeling that it needs to play tactically to avoid the wrath of copyright holders, deeply concerns us. There is clear potential for legitimate services and files to lose fair exposure and, at least as one of the short term outcomes, this could affect the cost of such services for users wishing to purchase affordable hosting space, again, passing on the cost of the copyright battle onto the end-user. We do not deny, however, possible merits of blocking Auto-complete results, a determined user will still find what they're looking for and ideas will no longer pop into the heads of those who have perhaps not used cyberlock websites for illegal usage before but, we feel that no-one should suffer on account of a small few expecting privileged treatment at the expense of others.
As always, matters with links to piracy remain a controversial subject, let us know your thoughts...