DuckDuckGo was founded back in 2008 as "the search engine that doesn't track you". The privacy focussed search portal has been enjoying steady progress since that time due to a number of deals such as being incorporated as an option in Safari, followed shortly by Firefox, and most recently following the 'privacy beyond search initiative'. Now, looking at its queries growth graph, DuckDuckGo traffic shows some signs that it has started to grow exponentially.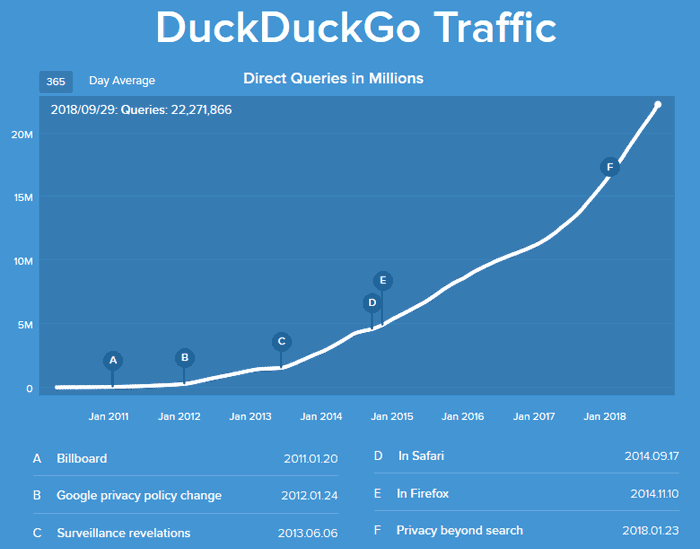 So far in 2018, DuckDuckGo has tallied 6.3 billion direct searches (you can add about 10 per cent to that number if you include API and Bot queries). Thus it will have served search results by the end of the year in excess of Google's search workload for two solid days. Google is hit by about 3.5 billion searches per day.
DuckDuckGo's traffic chart shows key events on its timeline, which it feels were instrumental in accelerating its adoption by the public. The billboard ad it took out in 2011 doesn't look like it caused many waves, however Google's 2012 privacy policy update set a group of people off to search for a Googling alternative and boosted DuckDuckGo's figures. A similar privacy-centred story involving Edward Snowden and the NSA ('C' above) is seen as another key accelerator of the Anatidae inspired search engine.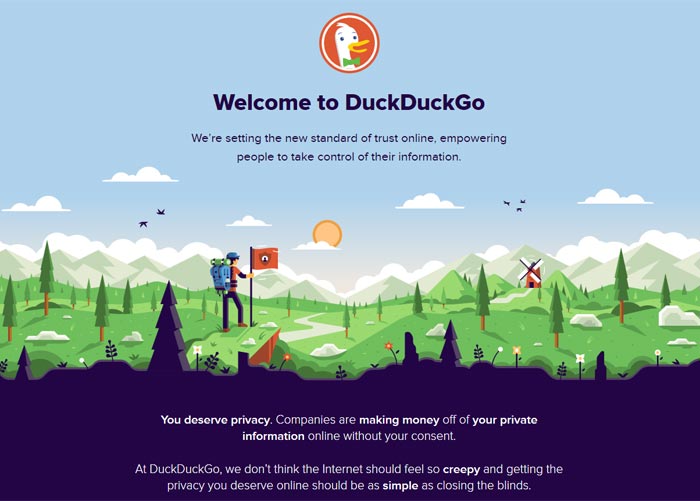 Going forward from approx 2015, the DuckDuckGo search engine grew faster thanks to deals struck with the likes of Apple (Safari) and Mozilla (Firefox). The most recent upturn is thanks to the 'Privacy beyond search' initiative that began earlier this year. Behind this was the launch of fully revamped versions of the DuckDuckGo browser extension and mobile apps which extended the search engine's privacy protection "beyond the search box to wherever the Internet takes you".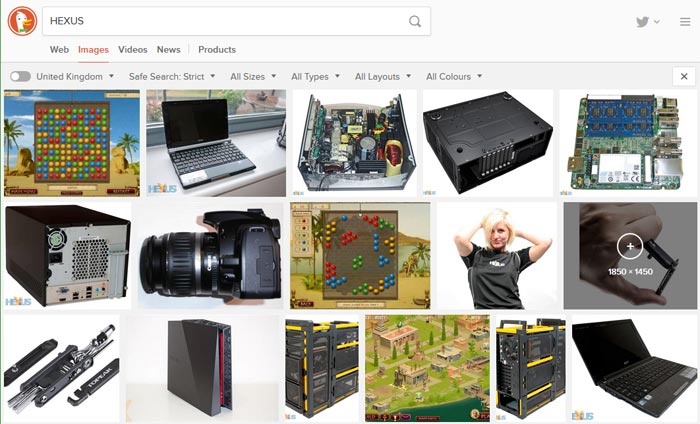 DuckDuckGo doesn't just rely on appealing to user privacy concerns to go forward, it also debuts new features which you may or may not find useful, as always, such as 'Bangs'. In brief, Bangs are simple abbreviated search prefixes letting you quickly search on specific sites (there are thousands of pre-sets). If, for example you want to search for shoes on Amazon you can simply type"!a shoes" into the search bar with DuckDuckGo as your default provider. Other examples are; !ebay wallet, !yt laurel and hardy, and !cnbc AMD.
"But my startup will never be able to compete with Google/Facebook/Amazon..." https://t.co/kKUWEpcMgH pic.twitter.com/4gTYllJv7O

— Founder Collective (@fcollective) September 29, 2018
For a snapshot of the current competitive browser landscape check out NetMarketShare's page on this statistic.