Back at the end of September HEXUS reported upon Google's removal of the YouTube streaming capabilities of the Amazon Echo Show smart home device. The withdrawal of service seemed to occur as we first heard news of a Google branded 7-inch Smart Screen device which would go head to head against Amazon's product.
Reasons for the removal of YouTube connectivity were cited by Google as being Amazon's eschewing of YouTube features such as subscriptions, next video recommendations, autoplay, and so on - thereby breaking the YouTube API TOS. The pair of tech titans couldn't agree on how the YouTube app should work on the Amazon Echo Show so it just ended up not working one day.
Now YouTube has returned to the Amazon Echo Show. The way Amazon seems to have implemented the popular video streaming service is by using the same YouTube that runs in web browsers. Previously by default the Show auto-played videos in full screen, annoying Google. To use YouTube in full screen now requires one of two steps. Either you can go over to your Echo Show device and carefully prod the full screen icon ion the corner of the video, or you can simply tell Alexa to do it after playback begins "Alexa, zoom in".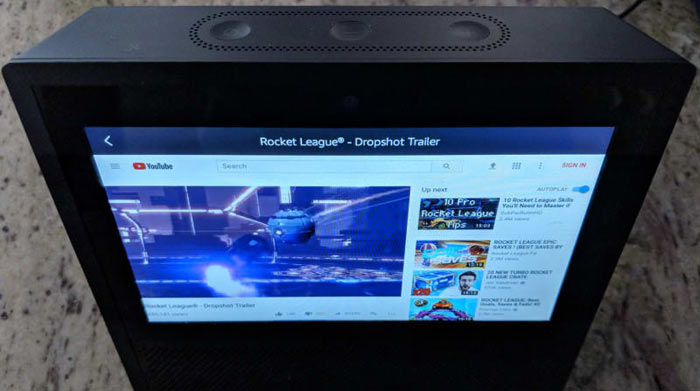 The app's simple, minimal UI has gone
Fast Company reports that this higher-friction way of finding, browsing and maximising videos is "exactly the kind of experience Amazon tried to avoid on the Echo Show". However, the withdrawal of YouTube from its roster of abilities reduced the attractiveness of this smart screen device compared to screenless Echo devices. Google is likely happy that pre-roll ads now work on the Amazon Echo Show, as that was another thing that Amazon's app 'broke'.
For those of us in the UK, the Amazon Echo Show only became available to purchase last week (currently £199). It launched in the US back in May.