Today the European Commission has fined Google €2.42 billion for antitrust violations. The record breaking fine has been imposed as the Commission has judged that Google unfairly promotes its own shopping comparison results when people enter a query that may be product/service related. Acting this way is an abuse of its dominance of the search engine landscape, according to EU antitrust rules.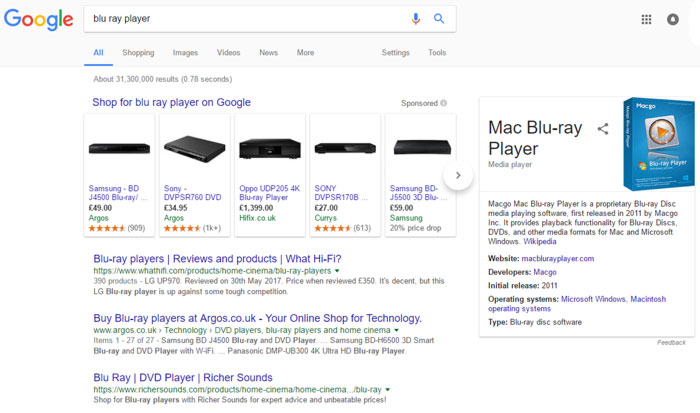 Example 'blu ray player' keyword search today
"Google has come up with many innovative products and services that have made a difference to our lives. That's a good thing. But Google's strategy for its comparison shopping service wasn't just about attracting customers by making its product better than those of its rivals. Instead, Google abused its market dominance as a search engine by promoting its own comparison shopping service in its search results, and demoting those of competitors," said Commissioner Margrethe Vestager, in charge of EC competition policy. "What Google has done is illegal under EU antitrust rules. It denied other companies the chance to compete on the merits and to innovate. And most importantly, it denied European consumers a genuine choice of services and the full benefits of innovation."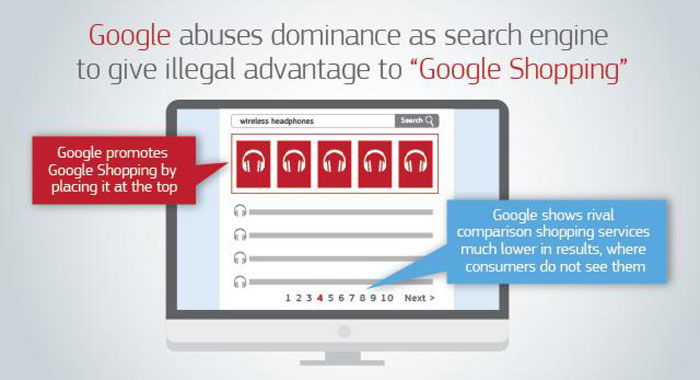 The twin strategy of giving prominent placing to its own shopping results and demoting competitor shopping comparison results in user searches undoubtedly works for Google but is easy to see it is unfair. The EC says that Google's own shopping comparison site was a rather poor performer as Froogle, renamed Google Product Search, and since 2013 known as Google Shopping. It didn't do so well against established players until Google abused its search market dominance as described by Ms Vestager above.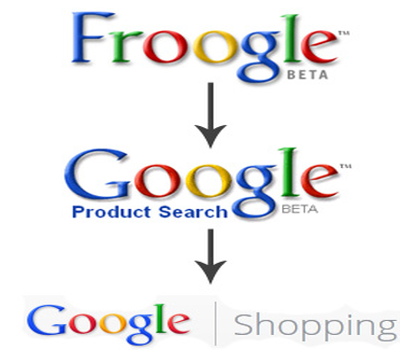 The European Commission explains that dominant market companies "have a special responsibility not to abuse their powerful market position by restricting competition". Exceeding approx 90 per cent market share across EEA countries, Google has been dominant in search since 2008 it has been found (2011 in Czech Republic). With regard to the abuse of this dominance it started in 2008 in the UK and Germany, and rolled out a similar program of self-serving promotion in France in October 2010, Italy, the Netherlands, and Spain in May 2011, the Czech Republic in February 2013 and Austria, Belgium, Denmark, Norway, Poland and Sweden in November 2013.
Google has done well from its market abuse. In the UK, for example, it has enjoyed a 45 fold increase in shopping traffic since 2008. Meanwhile traffic to rival shopping comparison sites dropped 85 per cent, following Google's search engine algorithm demotions for such sites.
The record breaking fine of €2.42 billion "takes account of the duration and gravity of the infringement". Google must, within 90 days, stop its illegal practices concerning its own comparison shopping service. It also must treat rival shopping comparison sites equally to its own, says the European Commission. Non-compliance may give rise to a daily additional penalty of up to 5 per cent of the average daily worldwide turnover of Alphabet, Google's parent company. Alphabet currently has $172 billion of assets.