Shortly after the Brexit vote HEXUS reported on the rather swift price increases that companies such as HP, Dell, and OnePlus were about to implement, due to the value of the GBP being hit hard. Between then and now there has been more of this kind of price action creeping up on UK dwellers. Just ahead of the weekend Microsoft announced that it too would have to ask for more British pounds from UK-based businesses, due to GBP's decline.

Microsoft's announcement concerns customers buying enterprise software and cloud services in the UK. From 1st January 2017 it is increasing prices in GBP to "harmonise prices for enterprise software and cloud services within the EU/EFTA region". It says it did a similar price review in Norway (Krone) and Switzerland (Francs) earlier this year. In the UK we are going to have to endure the following increases:
British pound prices for on-premises enterprise software will increase by 13 per cent
Most enterprise cloud prices in British pounds will increase by 22 per cent
Microsoft says that its enterprise cloud prices remain "highly competitive," even after the above increases… However, if you are a business customer already, with annuity volume licensing agreements and price protection you will not have to suffer any price increase for the term of your agreement. Also many Office 365 subscribers have a year agreement and thus won't be impacted by the price increase until it's time to renew.
Ending its volume licensing update blog post, Microsoft says that the pricing changes outlined above don't apply to consumer software and services. That's not to say these, and other Microsoft product prices, won't be adjusted separately.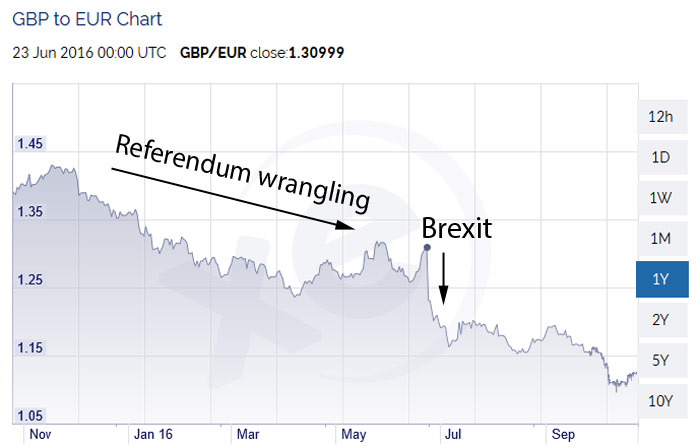 GBP to EUR Chart from November 2015 to today, via XE.com.