Microsoft has published its latest set of financial results. This time around it's the FY16 Q4 – or fourth financial quarter and fiscal year 2016 results. Headline figures for the quarter/full year are; $20.6 billion / $85.3 billion in revenue, $3.1 billion / $16.8 billion in net income, and a diluted earning per share of $0.39 / $2.10.

CEO Satya Nadella asserted that the past year was "pivotal" in the company's transformation. One particular big change evidenced in the most recent financials was the contribution of the Microsoft Cloud to the company's coffers. "The Microsoft Cloud is seeing significant customer momentum and we're well positioned to reach new opportunities in the year ahead," said Nadella.
Microsoft broke down its quarterly results by division including; Productivity and Business Processes, Intelligent Cloud, and More Personal Computing. The former two business areas grew, while the latter saw a decline.
Productivity and Business Processes grew 5 per cent. Within this category Office commercial products and cloud services revenue grew 5 per cent, Office consumer products and cloud services revenue grew 19 per cent and Dynamics products and cloud services revenue grew 6 per cent.
Intelligent Cloud grew 7 per cent overall. Server products and cloud services revenue increased 5 per cent. However, stellar performers within this category were Azure, with revenue up by 102 per cent, and Enterprise Mobility which saw the number of customers double over the year.
Letting the side down was More Personal Computing with its overall 4 per cent decline. While Windows OEM revenue grew 29 per cent and Surface revenue increased 9 per cent, phone revenue was down a disastrous 71 per cent.
Perking up More Personal Computing a little was the good news from Xbox – with Live subscribers up 33 per cent year over year, to 49 million. Search advertising revenue was also up, excluding traffic acquisition costs, with a 16 per cent uplift helped by Windows 10 adoption.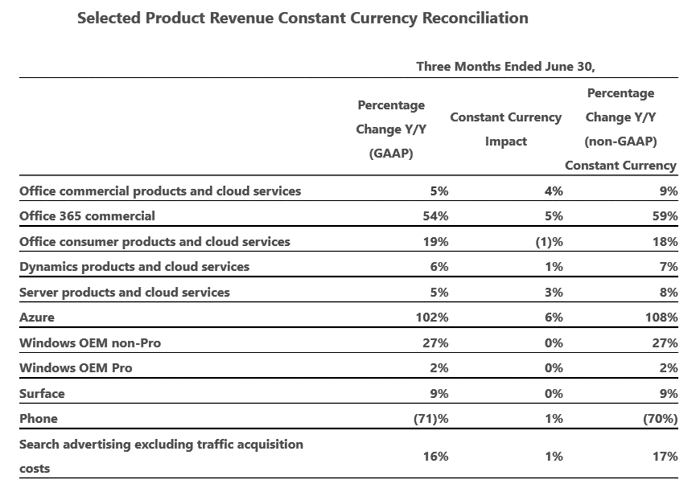 The above financials are the first from Microsoft since its agreement to buy LinkedIn. It's far too early to see any LinkedIn social media platform impact on income but it will surely be important to the growth areas in Microsoft's current trio of business divisions. CEO Nadella foresees LinkedIn as strategical support for Office 365, Dynamics 365, and its app stores.