Microsoft has published its latest quarterly results covering the three months ending on 30th September 2015. This, its Q1 2016 quarter, saw the software (and devices) giant generating $20.4 billion in revenue and make $4.6 billion in profit. As Reuters notes, this is Microsoft ninth quarter in a row of reporting better than expected adjusted revenue.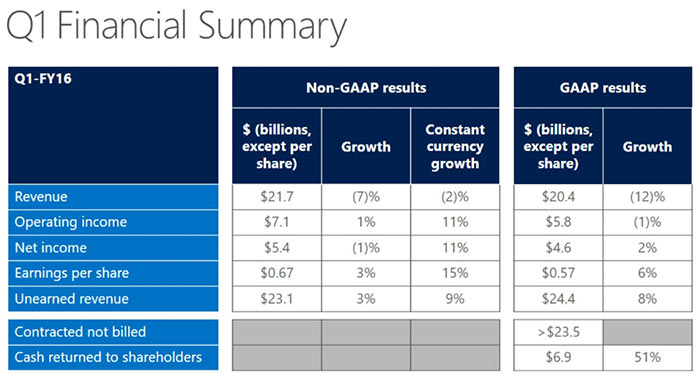 Although Microsoft CEO, Satya Nadella, touted strong growth across its main ambitions, it is the firm's cloud products which have helped inspire investors in after hours trading. Microsoft's shares have hit a 15 year high, notes the FT, and have been up as much as nine per cent pre-market (currently 7.4 per cent up). Profits grew 11 per cent year on year if you use 'constant currency' for comparisons but due to exchange fluctuations the GAAP profit amount was up just two per cent.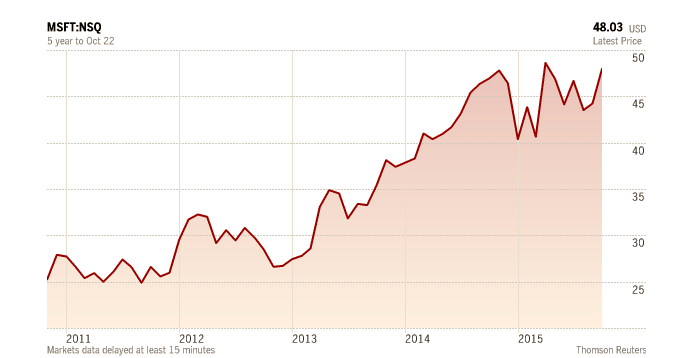 Nadella's results statement read as follows; "We are making strong progress across each of our three ambitions by delivering innovation people love," said Microsoft's CEO. "Customer excitement for new devices, Windows 10, Office 365 and Azure is increasing as we bring together the best Microsoft experiences to empower people to achieve more."
Preferring to use constant currency in listing the most recent quarter's achievements, Microsoft highlighted the following results:
Office 365 revenue growth of nearly 70 per cent in constant currency. Subscribers reached 18.2 million – that's approx 3 million up this quarter.
Dynamics revenue grew 12 per cent in constant currency, with the Dynamics CRM Online enterprise installed base growing more than 3x year-over-year.
Server products and cloud services revenue grew 13 per cent in constant currency.
Azure revenue and compute usage more than doubled year-over-year.
Enterprise Mobility customers more than doubled year-over-year to over 20,000, and the installed base grew nearly 6x year-over-year.
Search advertising revenue excluding traffic acquisition costs grew 29 per cent in constant currency with Bing US market share benefiting from Windows 10 usage.
Xbox Live monthly active users grew 28 per cent to 39 million.
But Personal Computing declined, whichever accounting practices were applied; this revenue stream was down 13 per cent in constant currency and down 17 per cent using GAAP. Phone revenue declined 54 per cent in constant currency.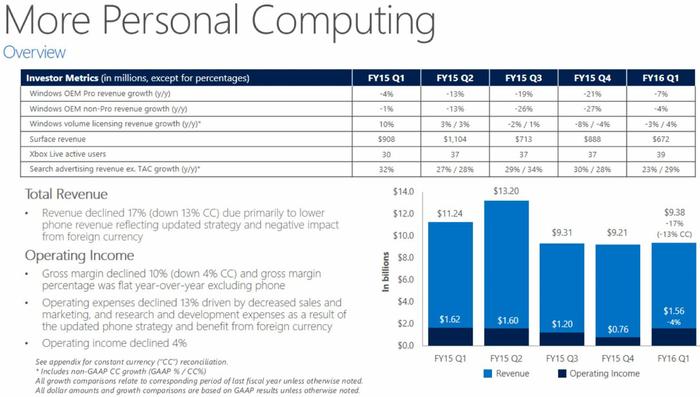 As you can see from the above highlights Microsoft's cloud services were star performers. Reuters notes that in Amazon's 'surprise profits' result yesterday, cloud services played an important part in its revenues. This is also the first quarter for Microsoft where Bing, launched in May 2009, has become a profitable business.
In other Microsoft related news today the number of Surface Book SKUs has grown to seven. Microsoft has introduced a new 'low end' model with Nvidia dGPU at $1,699, and the top end has been capped by a 1TB storage model costing $3,199.