Microsoft brought in $23.38 billion in revenue during the three months ending 30th June 2014. From that figure it made profits of $6.48 billion. The Nokia Devices and Services business, acquired on 25 April, had a negative impact on the financials, losing $692 million. However compared to last year's figures Microsoft still managed a positive seven per cent growth in profits. Looking at the company share value it has also done well over the last year, up by about 12 per cent.

Wall Street had expected slightly better results from Microsoft in terms of its earnings per share figure. However in after hours trading MSFT shares have fared well, currently up by about 1.4 per cent. On balance this could be thanks to the beating of Wall Street revenue estimates and the restructuring plan currently in action.
Devices and services company Productivity and platform company
Microsoft CEO Satya Nadella outlined the direction in which Microsoft is now heading "We are galvanized around our core as a productivity and platform company for the mobile-first and cloud-first world, and we are driving growth with disciplined decisions, bold innovation, and focused execution," he said. The CEO went on to specifically highlight the progress of Microsoft's cloud business "I'm proud that our aggressive move to the cloud is paying off – our commercial cloud revenue doubled again this year to a $4.4 billion annual run rate."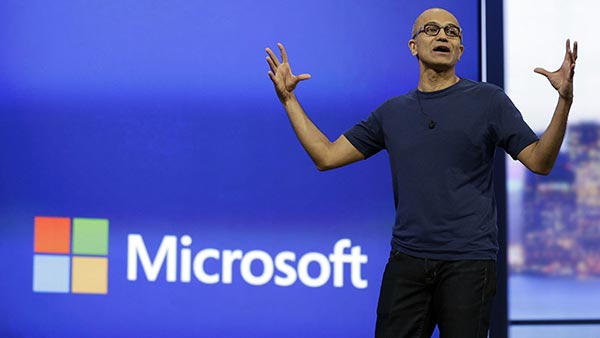 Looking at Microsoft's business highlights in the most recent quarter, by the numbers, we see that:
Windows OEM revenue was up 3 per cent for consumer devices
Windows licensing revenue grew by 11 per cent in the commercial sector
Office 365 subscribers grew by 1 million to 5.6 million
Bing search revenue grew 40 per cent
Commercial cloud revenue rose by 147 per cent
In Microsoft's new 'Phone Hardware' division we saw the following highlights:
Revenue contribution of $1.99 billion (but overall it lost $692 million)
Lumia smartphone sales of 5.8 million units – mainly "devices at lower price points"
30.3 million feature phones were sold
So how will Microsoft manage to turn its Phone Division into a success? We know that it has just initiated its biggest ever staff cuts, mainly from its newly acquired flock of Nokia people. That should make a big difference, visible in the next couple of quarters. Also there is talk that Microsoft will stop any work on the feature phone business and get more cheaper Lumias out there.
With Intel and Dell both foreseeing an upturn in enterprise PC sales in 2015 Microsoft should also benefit from this refresh cycle, with stronger Windows and Office sales/subscriptions.