Apple's results for the January to March 2013 quarter were published last night. The results show for the first time in ten years that growth is slowing down. The headline net profits figure came in at $9.5 billion compared to $11.6 billion in the same period last year.
Despite the profits dip the results for the quarter (Apple's fiscal Q2) were better than expected by many industry analysts. Strong performance of the iPad and iPhone ranges brought in increased revenues totalling $43.6 billion. However with the increasingly competitive market for such devices Apple's margins simply aren't what they used to be.
Fears of such a slow down have been hurting the share price in recent months. Apple's 52 week high was $705, today its stock is valued at $406 per share. This latest set of results isn't going to fix that but the company have a new approach to sweeten Wall Street's view of the company. Reuters call this Apple's "cash plan", which it is hoped will take the heat off Apple and Tim Cook. Apple is to divert investors' attention away from its previously unstoppable growth and offer more mature company benefits such as an increased yearly dividend payments to shareholders. In this way it plans to return $100 billion to shareholders by the end of 2015. Reuters says Tim Cook is trying to "reset heightened expectations" over Apple's performance.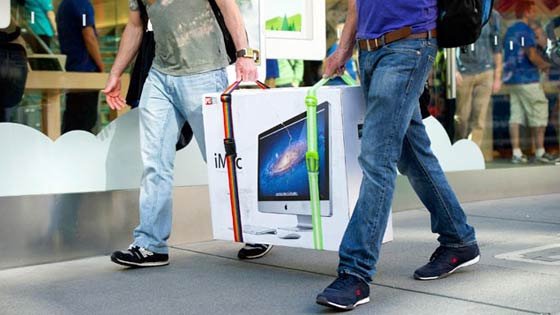 Sales of Apple's computer range were flat
Tim Cook made a statement to accompany the latest set of results. He said "The most important objective for Apple will always be creating innovative products. Our teams are hard at work on some amazing new hardware, software and services, and we are very excited about the products in our pipeline." On the subject of the stock price Cook said "The decline in Apple's stock price over the last couple of quarters has been very frustrating for all of us... but we'll continue to do what we do best."
In the coming year we will see new iterations of the iPad, iPhone and Apple desktop and laptop computers but investors have hopes of new products such as the iWatch and Apple TV equipment making really big waves for the Cupertino, California based company.