Apple shares were almost at a 12 month low as the stock market closed in New York last night. The share price dropped about 3.5 per cent yesterday settling at $501.75 by close of trading, the intraday low was $498.51. In September the California based tech giant's shares were valued at over $700. Reports coming from Japan about Apple cutting orders with iPhone 5 screen suppliers triggered the latest fall. Investors are already nervous about the prospect of Apple's results, due next week. "Analysts' consensus forecast is that Apple will post a year-over-year decline in earnings for the first time in a decade," reported the FT.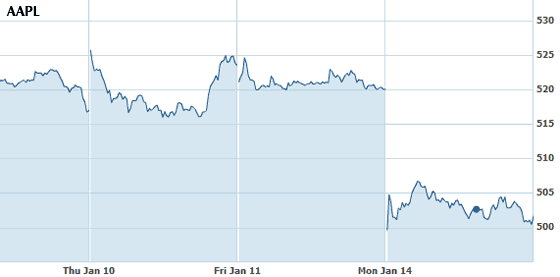 Reports from Japan's Nikkei said that Apple has halved orders for iPhone 5 screens, from an initial plan of 65 million to about 33 million, which will be used to manufacture phones during Q1 2013. Apple suppliers such as Sharp, Cirrus Logic and ACC Technologies all suffered share price drops following yesterday's revelation (down 7 per cent, 4.2 per cent and 9 per cent respectively). The component order cut is seen as a warning flag that iPhone 5 sales are not as good as they could be.
Rival Samsung
Apple's main rival in the smartphone arena, Samsung, has had a run of record results and it looks like the South Korean firm now has the greatest market momentum. Only yesterday we saw Samsung's news that it had sold 100 million flagship Galaxy S smartphones. Last week Samsung pre-announced Q4 2012 profits of £5.2 billion.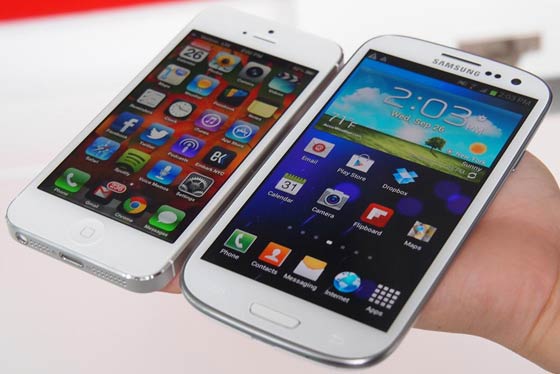 The next iPhone
It is possible that the iPhone 5 screen orders have been reduced early as Apple prepares to launch its successor earlier than originally planned. This would allow Apple "to better compete with Samsung's frequent release of new devices" suggests the FT. If this is the case, it puts a positive spin on the screen order reduction news, but is obviously not what stock market investors think is happening right now.