The consumer PC market declined by 20 percent in the UK in the last quarter of 2011, according to new research by Gartner who warns that vendors will continue to face an uphill struggle as demand weakens across the whole of Western Europe.

The research figures show that PC shipments have declined for the fifth consecutive quarter with the fourth quarter revealing that 2.9 million units were shipped, a decline of 19.6 percent year-on-year. The total figure for the whole of 2011 indicates a 15.9 percent decline from 2010.

"

Despite aggressive pricing and special holiday deals for PCs, consumers' attention was caught by other devices, such as smartphones, media tablets and e-readers

," said Meike Escherich, principal analyst at Gartner. "

Even though we saw a drop in prices, consumer PC shipments could not match the levels of previous years

."

Out of the top five UK vendors only Apple experienced growth recording 17.2 percent increase year-on-year and overtaking Acer who experienced a huge dip in sales from 610,000 units to just 230,000 units in Q4 2011..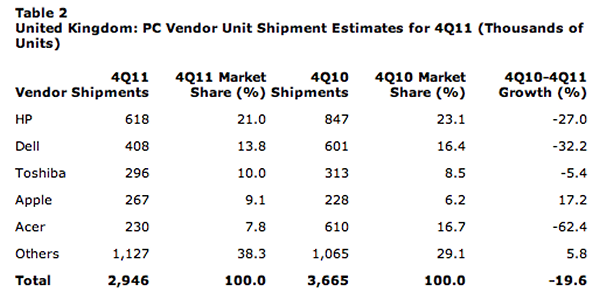 Dell also suffered with figures showing a 32.2 percent decline in sales from 601,000 to 408,000 in Q4 2011, while market leader HP saw shipments dip from 847,000 units to 618,000, a decline of 27 percent. Shipments of Toshiba PCs also dropped by 5.4 percent from 313,000 units to 296,000.

"

The UK market has been a prime illustration of the underlying weakness in PC demand across Western Europe

," said Ranjit Atwal, research director at Gartner.

It's a similar picture across Western Europe with Germany, France, Italy, Spain, Greece and Portugal all seeing PC shipments decline, with only Lenovo and ASUS riding the storm and seeing sales of their products increase.

Referencing HDD shortages caused by the floods in Thailand in 2011, Gartner issued another bleak forecast for 2012. "

If general market conditions continue to deteriorate, we expect HDD shortages to be just one of many contributors to overall PC market contraction in 2012

," said Atwal.