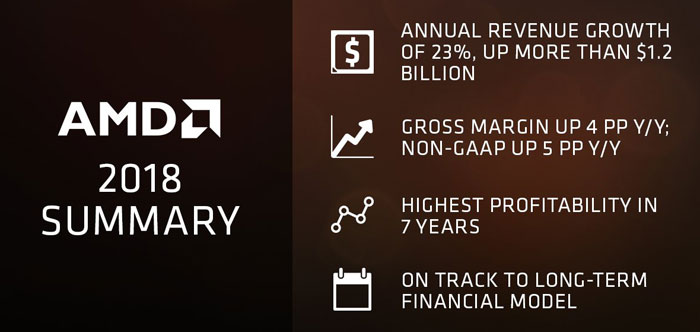 AMD has delivered an upbeat set of financials, publishing (PDF) its Fourth Quarter and Annual 2018 results last night. Dr Lisa Su was pleased with AMD's "second straight year of significant revenue growth, market share gains, expanded gross margin and improved profitability," and promised more exciting product launches during 2019. In particular Su highlighted the upcoming 7nm Ryzen, Radeon, and EPYC products.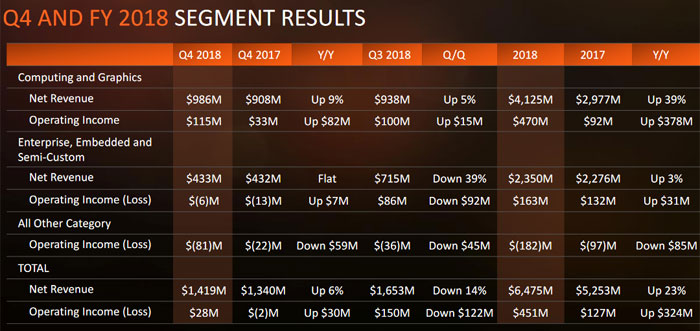 Above you can see a summary table for the quarterly and annual results just published. It is quite a good custom table from AMD's presentation as it breaks down the firm's operating segments too. General financial highlights from AMD are bullet pointed below:
Annual results: Revenue of $6.48 billion was up 23 per cent year over year, driven by higher revenue in the Computing and Graphics segment. Gross margin was raised to 38 per cent, compared to 34 per cent a year earlier.
Q4 results: Revenue of $1.42 billion was up 6 per cent year over year primarily driven by the Computing and Graphics segment. Enterprise, Embedded and Semi Custom segment revenue down 14 per cent. Gross margin improvements arrived thanks to Ryzen and EPYC processor sales.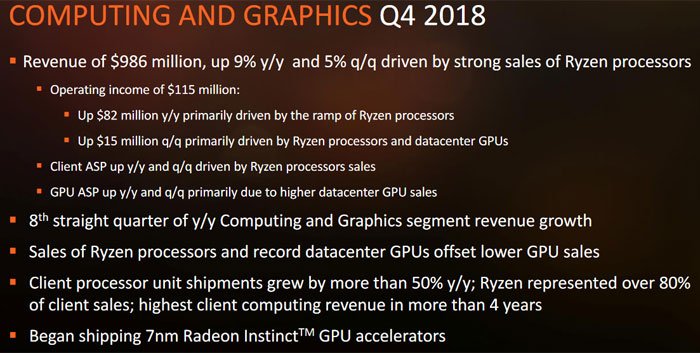 In a post-results conference call, Dr Su boasted of new products gaining market share and significantly boosting the gross margin. This lead "to our most profitable year since 2011," highlighted the AMD CEO. On the topic of GPUs, Su admitted "near-term graphics weakness," due to a stall in crypto demand (in Q4 such sales were said to be negligible). With AMD Navi introductions planned for later this year, hopefully things will pep up for AMD in this segment.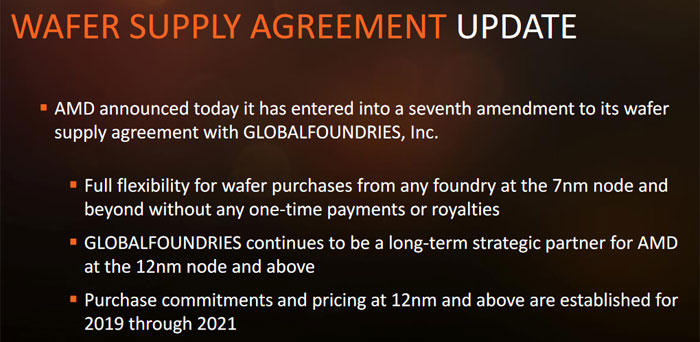 Wafer supply agreement update
AMD enetered its 7th agreement with GLOBALFOUNDRIES Inc. (GF). As you can see in the presentation slide above, AMD gains the flexibility for wafer purchases from any foundry at the 7nm node and beyond, without any one-time payments or royalties to GF.