Apple released its Q4 financial results last night. The results were good, with Apple raking in record revenue - up 18 per cent quarter-on-quarter, and 20 per cent year-on-year. The total revenue amounted to $62.9bn with earnings per share of $2.94. However, weak guidance, or a disappointing outlook, impacted investor sentiment and in after hours trading Apple shares have fallen over 5 per cent (at the time of writing, and as low as 7 per cent a few hours earlier) bringing Apple's valuation back under the $1tn milestone.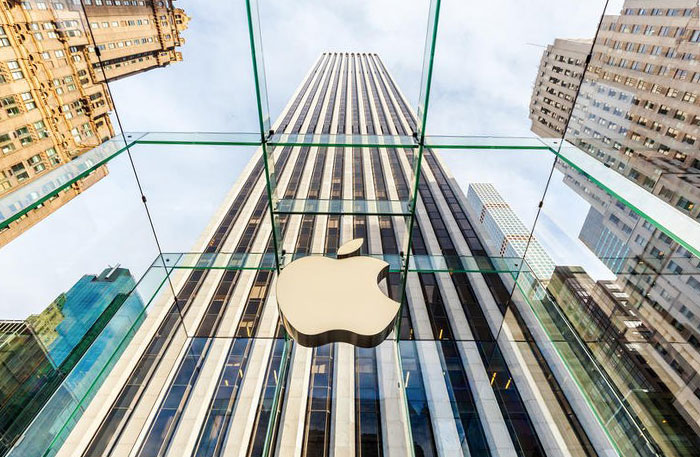 "We concluded a record year with our best September quarter ever, growing double digits in every geographic segment. We set September quarter revenue records for iPhone and Wearables and all-time quarterly records for Services and Mac," said Luca Maestri, Apple's CFO in a statement accompanying the results.

An overview of the performance of Apple in terms of revenue brought in geographically, and overall, is provided above. These look like good growth figures, especially in Japan. One must remember that the iPhone XS, released in September, won't show up in sales until next quarter. Its shift up in prices, with many iPhone models costing around $1,000+ seems to be paying off in some parts of the world. However I note that the guidance for the coming quarter flags demand slowdown in places like Turkey, India, Brazil and Russia.
The guidance for Q1 2019 has been officially bullet pointed as follows:
revenue between $89 billion and $93 billion
gross margin between 38 percent and 38.5 percent
operating expenses between $8.7 billion and $8.8 billion
other income/(expense) of $300 million
tax rate of approximately 16.5 percent before discrete items
Back to the Q4 2018 results, and Apple shared, as is usual, a breakdown of device and service sales units/revenue. It lists iPhone, iPad, Mac, Services, and Other products separately and investors like the transparency this provides.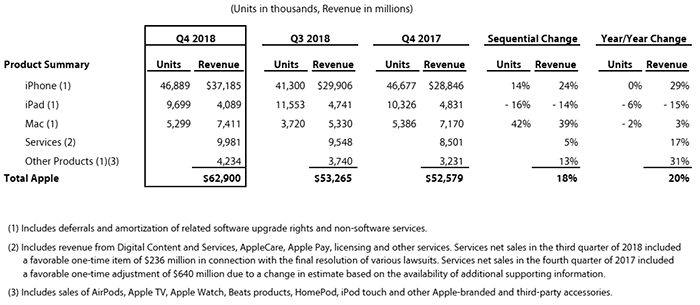 As well as the 'weak' guidance for Q1 2019, investors heard the news that Apple would no longer be reporting unit sales as above. As the FT reports, CFO Luca Maestri "unexpectedly gave notice" that Apple would stop reporting unit sales for iPhones, iPads and Macs, starting from next quarter. The CFO tried to soft-soap the decision by telling analysts "a unit of sale is less relevant today than it was in the past" due to the wide range of models and price points and the reporting change is in the "best interest of investors".
Investors have never been able to check on the progress of some devices, like the Apple Watch, and some fear that any forthcoming slump in the key area of iPhone sales would be difficult to spot.