Last night, after the close of the financial markets in the US, AMD released its Q2 2018 results. Investors will be very pleased with this latest set of financials as they easily beat Wall Street analyst forecasts and thus the AMD share price was up as much as 7 per cent in afterhours trading. The headlining fact we see in these results is that AMD has grasped its best quarterly profits for seven years.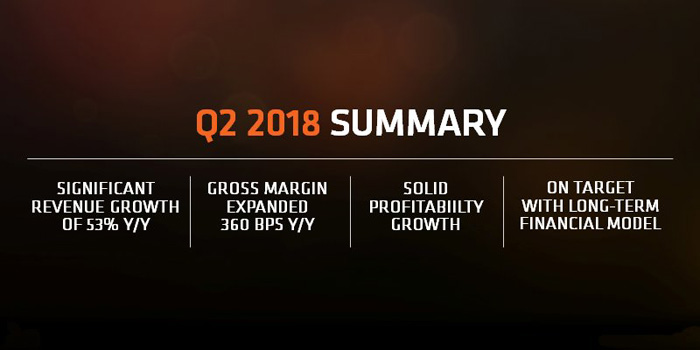 "We had an outstanding second quarter with strong revenue growth, margin expansion and our highest quarterly net income in seven years," said Dr. Lisa Su, AMD president and CEO. Past performance is to guarantee of future prosperity and thus, in her official results statement, Dr Su went on to assert "Most importantly, we believe our long-term technology bets position us very well for the future. We are confident that with the continued execution of our product roadmaps, we are on an excellent trajectory to drive market share gains and profitable growth."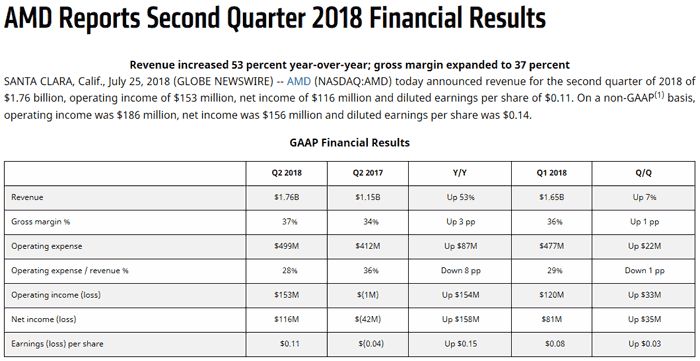 In the financial summary table above you can see that revenue was $1.76 billion, up 53 percent year-over-year and 7 percent quarter-over-quarter. Breaking down that figure, AMD's Computing and Graphics segment brought in $1.086bn with profits of $117 million, and AMD's Enterprise, Embedded and Semi-Custom segment raised $670 million, which resulted in an additional $69 million in profits.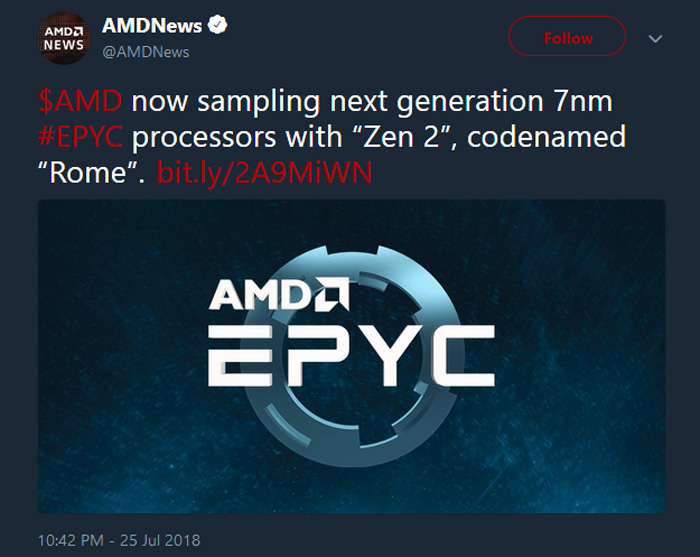 As highlighted by Dr Su above, it is important to keep pushing to launch new and improved products. In the wake of the results last night, in its earnings call, AMD shared news that it is now sampling next generation 7nm EPYC processors with 'Zen 2', codenamed 'Rome'. This should cement the recent success of EPYC being in over 50 customer platforms now in market, including hardware from Cisco, HPE, and Dell.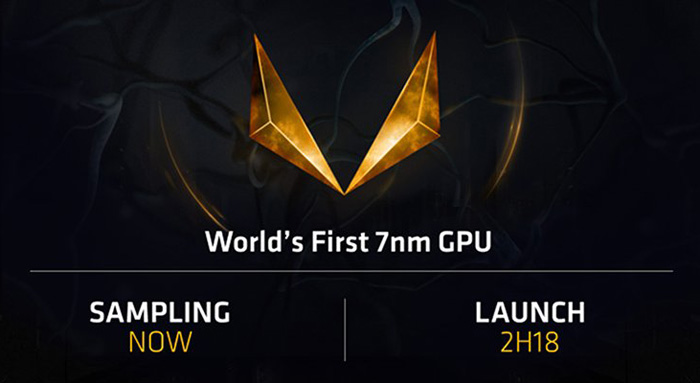 Turning to GPU development news, AMD said that "gaming sales into high-end enthusiast and performance portions of the market grew substantially". With regard to data centre GPUs, the momentum gained from Vega-based solutions like the MI25 will be built upon by the next generation. AMD said that 7nm Vega GPUs are sampling now and will launch in H2 2018 (not far off).