Can't get enough of iPad
It was once said that if anyone could find a market for a tablet, it would be Apple. Now that the iPad has been released and is selling like hotcakes, it seems that even market research firm iSuppli underestimated how successful the device would be. This week, the analysts increased their predictions to say that gadget will ship 12.9 million units this year, up from a previous estimate of only 7.1 million.
According to the firm, interest in the device outstripped even its own optimistic numbers. Now, iSuppli's director of monitor research, Rhoda Alexander, suggests that "the only limitation on iPad sales is production-and not demand". Apple recently took steps to increase manufacturing for the iPad, meaning that boosting the outlook makes some sense. However, Alexander goes on to comment that "Apple could further increase its 2010 production goals, but it risks sacrificing some quality control in that effort", implying a potentially massive demand for the device.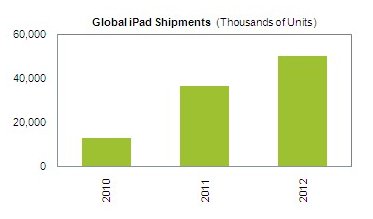 Continued growth is expected through the next few years as well. The firm is predicting shipments of 36.5 million units by the end of next year and 50.4 million by the end of 2012. Of course, Apple is expected to face increased competition as we head towards winter, when companies like Dell, Lenovo and HP, among others, are expected to release a bevy of Windows and Android tablets. However, if there's one thing that Apple has never struggled with, it's maintaining momentum in the face of competition. To this end, the analysts expect a refresh of the product next year that will add new features, including the rumoured camera for video conferencing.
Can the iPad keep up with this pace, or will sales drop off once the Apple hardcore all have one? Can it really move 50 million units in the next two years? Let us know what you think in the HEXUS community.