Supply and demand
Memory market watcher DRAMeXchange has reported a ten percent increase in the spot price of DDR2 1Gb eTT last week as worldwide DRAM industry capacity continues to tighten.
There was a sharp uplift in the price of DDR2 after memory manufacturer Qimonda became insolvent, but that spike soon corrected itself. Last week, however, the gradual upward trend that we've seen since the start of the year commenced once more.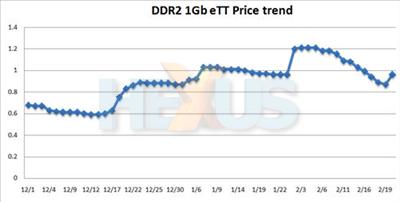 DRAMeXchange also explained that a Chinese government initiative apparently intended to promote technology uptake in rural parts of the country may be driving demand and thus raising prices. It seems bids to participate in the scheme must be submitted by the end of this month and this may have prompted a flurry of demand for resources.
The name of the initiative is translated to "Home electronics down to the country side" and seems to involve a 13 percent subsidy from the Chinese state to provide affordable IT and CE products to rural consumers. On top of any egalitarian motives this appears to be designed to compensate for the global recession by driving domestic demand in general.
While the units used aren't too clear (possibly units per hundred households), the table below gives some indication of the relative penetration of PCs in rural China. There appears to be plenty of growth potential there.