TrendForce's DRAMeXchange research division has issued a bulletin today, about movements observed in the DRAM market. The key observation is that "DRAM spot prices have begun to rebound," and from these movements DRAMeXchange has a number of forecasts to share, some revised in light of the new data. Furthermore, DRAM contract prices are expected to rally as early as Q1 2020.
DRAMeXchange says that the rebound in the DRAM spot market is due to a number of factors. Firstly, the market sentiment has strengthened. This reflects the optimism of makers of devices that include DRAM. These industries are more willing to raise inventory levels to protect pricing and ensure availability in line with production plans.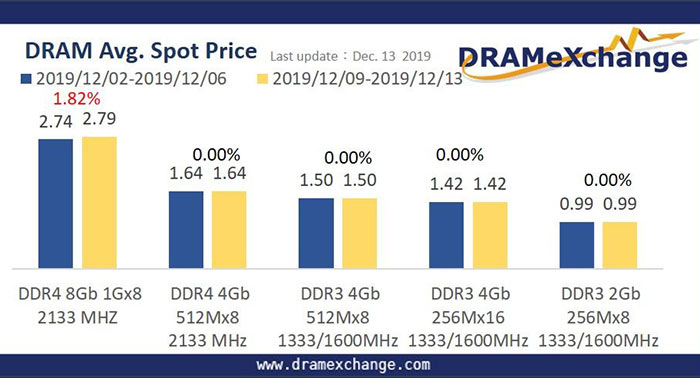 Secondly, while it is noted that DRAM prices have been suppressed by an influx of component returns "at rock bottom prices" - and it seems like in the current quarter these returns are continuing - the pile of these chips is now being digested quickly.
With the spot price of DRAM looking set for a rebound, DRAMeXchange reckons there will be a knock on effect in contract prices as early as Q1 2020. Oversupply still exists despite five quarters of inventory adjustment, observes DRAMeXchange. Another factor indicating an upturn in pricing is shown by looking at DRAM pricing demand/supply history.
Looking more specifically at PC DRAM, DRAMeXchange sees contract pricing of these parts still experiencing minor QoQ drops (while server DRAM products are slightly up). End user DRAM module pricing is expected to cease declining and perhaps be steady for a period before. Meanwhile the in-demand server DRAM is forecast to rally about 5 per cent in Q1 2020.

DRAMeXchange also had something to say about graphics memory. GDDR6 is expected to see a minor contract price increase QoQ as GPU makers largely abandon GDDR5 and squeeze supplies of the newer chips.