Nvidia Corp published its Q3 2014 financial results last night. While the graphics chipmaker enjoyed a slight upturn in the quarter-on-quarter comparisons, beating most analyst expectations, the longer year-on-year comparisons looked gloomy. Since last year GPU revenue is down nearly 2 per cent, Tegra processor revenue is down nearly 55 per cent while cash raised from other business activities remains flat. Net income fell to $118.7 million from $209.1 million a year ago.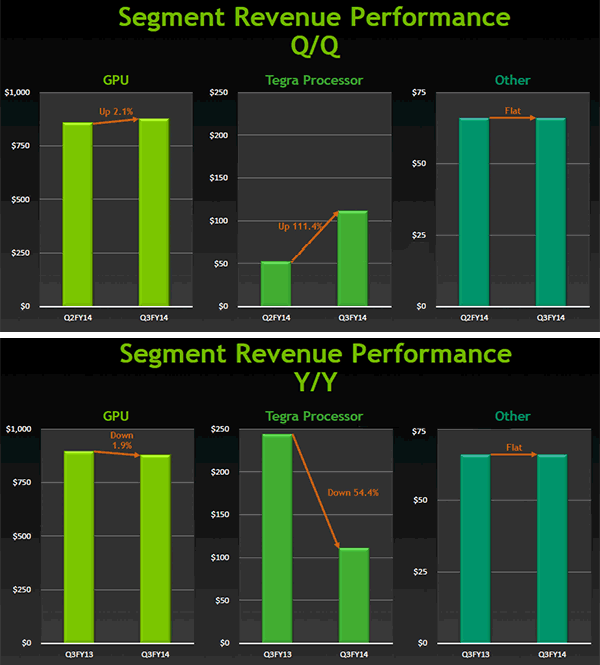 All numbers are in $ millions
You can see the quarter-to-quarter and year-to-year comparisons of Nvidia raised revenue in the charts above. Nvidia wanted to highlight the events behind these numbers with an eye on a brighter future and presented the slide below to focus on the positives.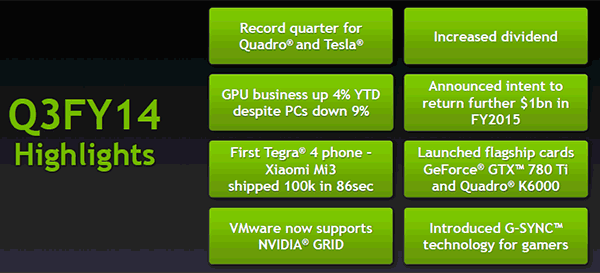 Desktop GPUs
Sales of graphics chips destined for PCs still accounts for the majority of Nvidia's revenue and it declined by around two per cent year on year. That could be considered a good effort by Nvidia, fighting against the backdrop of the declining PC industry trend. However we have seen reports that graphics cards shipments are on the up as PC gaming remains strong. Also things are getting very competitive with rival AMD recently releasing its enthusiast 'Hawaii' GPUs at keen prices.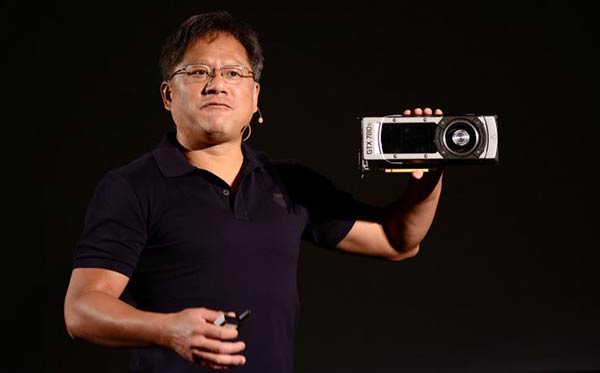 Tegra processors
Nvidia has been working on making more chips for tablets and also has smartphones in its sights. You can see in the highlights above that "First Tegra 4 phone – Xiaomi Mi3 shipped 100k in 86sec" – a very popular and powerful device. Talking to Bloomberg, Betsy Van Hees, an analyst at Wedbush Securities, said expectations were low after recent disappointments with Tegra being elbowed out of many tablet designs by competitors such as Qualcomm. "We did see a nice bounce back in Tegra," commented Van Hees.
Other business
VentureBeat reports that Nvidia saw good sales of its Quadro and Tesla chips for engineers, servers, and supercomputers. However, looking at the revenue figures, it seems that this other business has remained flat overall.
Other titbits include the fact that Nvidia said it will be licensing out its upcoming project Logan (Tegra 5) mobile SoC to other companies. Also CEO Jen-Hsun Huang thinks there will be some considerable growth (up to $400 million in the next couple of years) in selling chips to automobile makers to power their in-car display systems. An example of the 17-inch screen equipped Tesla sedan was put forward as an early adopter of Nvidia tech in automobiles.