Nvidia has outlined a new strategy which it hopes will make the most of the booming mobile market. Nvidia has already put its finger in the mobile pie with its ARM based Tegra mobile processor business, which has been moderately successful with various design wins but has been increasingly under the cosh from Qualcomm. Now it plans to play more to its strengths - graphics technology. Nvidia has announced that it will license "graphics cores and visual patents" to makers of mobile devices like smartphones and tablets.
With increasingly tough competition from Qualcomm and big mobile players Apple and Samsung producing their own processors Nvidia has decided to license out its graphics cores and tech to interested parties. Reuters notes that while this avenue may "reach further into the mobile industry" than its previous efforts have managed it will face competition from a new rival – the UK's Imagination Technologies, a company which lists both Apple and Intel as major stockholders. Also ARM licenses its own mobile graphics processor designs, the ARM Mali series.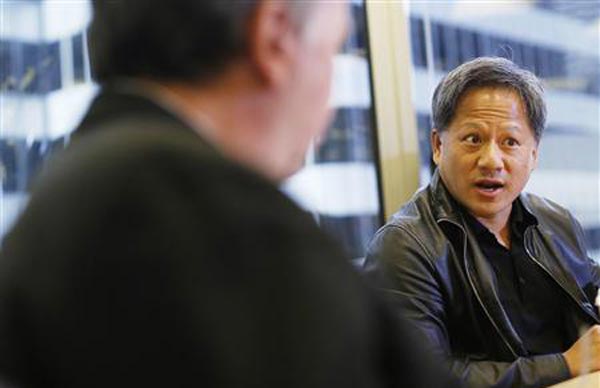 Photo: Reuters/Stephen Lam
The world has changed
Introducing the new plans at the Reuters Global Technology Summit in San Francisco yesterday, Nvidia CEO Jen-Hsun Huang said "The bottom line is the world has changed and we're expanding our business model to serve markets that we historically could not serve by selling chips alone". Asked about if he hopes to gain business from Apple and Samsung, Huang replied "We will target customers where their capacity and desire to build their own application processors is great." He continued to explain "This is a way for us to engage customers who don't like to buy chips because they like to create their own, because they have the capacity, creativity and now the scale to build their own."
Nvidia mobile processors have seemed to lose some momentum in the last few months thanks to rival Qualcomm's foresight in creating an LTE compatible part first, an SoC which is popular with many manufacturers. (The new Nexus 7 is supposed to be powered by a Qualcomm SoC) Nvidia is expected to launch LTE tech equipped chips soon and it said it is open to licensing that alongside its graphics offerings.
Huang was also asked about the interesting future possibility of Nvidia actually earning more from licensing royalties than the rest of its business. He replied that he sees the future of most successful tech companies as "increasingly hybrid". However he saw Nvidia's licensing revenue trailing behind its chips sales business "for a long time".