According to a report published by Taiwan's DigiTimes, TSMC has won orders to produce Nvidia's next generation GPUs. Its source, the Chinese language Commercial Times, says that TSMC will fabricate Nvidia's next generation Volta GPU using a 12nm process. No Volta PC add-in-card information or launch timescales were touched upon.
Volta will be paired with Nvidia's Xavier 'supercomputer' SoC for self-driving car applications, according to the Commercial Times. Xavier was previously said to be a 16nm chip but it is now destined to use the same 12nm process as Volta, say industry moles.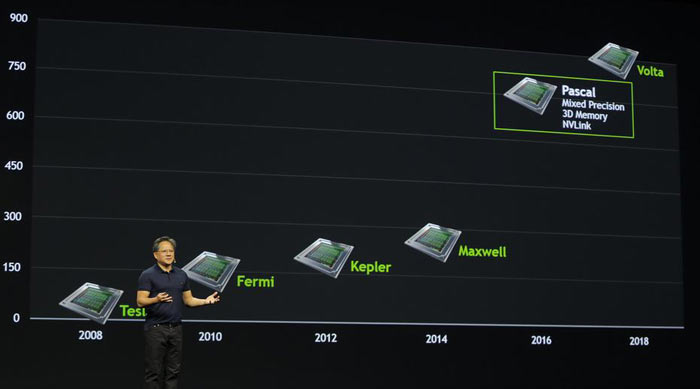 Reading a translation on the same topic over at EXPReview, it isn't very clear whether TSMC's 12nm process is just 'marketing spin'. This Chinese tech site seems to imply that TSMC 12nm process is really just a 4th generation 16nm process. The manufacturing process lineage is as follows; in 2013 TSMC began 16nm FinFET production, this was succeeded by 16nm FinFET+, then the more compact 16nm FFC. Now these '12nm' chips are said to be a fourth generation of improvements to the 16nm process with lower current leakage and cost - and perhaps some subcomponent allowing marketing to label the process as 12nm.
In further information from the Commercial Times report, it is said that Qualcomm will have its Centriq 2400 server chips made by TSMC. Centriq 2400 chips, with 48 ARM-based processor cores, will be manufactured on a 10nm process at TSMC. Microsoft was recently reported to be deploying Qualcomm Centriq 2400 open compute motherboards and processors in its in-house data centres running an ARM version of Windows Server.