The king is dead, long live the king
As the mobile device revolution evolves, we commentators are continually inclined to find some concise, pithy way to define this new paradigm.
The PC industry was defined by the dominant OS and chip combo - Wintel - and an unlimited number of system builders chose to combine these two with a massive choice of other components to make PCs. This stood in contrast to the closed component ecosystem of Apple devices, where one company controlled everything.
In the mobile space this contrast is once more becoming evident, but the OS of choice for third party OEMs is increasingly looking like Google's Android, rather than Windows. With Qualcomm the biggest mobile chip-maker, the hybrid term 'Quandroid' has been chucked about to define the new paradigm, but there are many more alternatives to Qualcomm in mobiles than there ever were to Intel in PCs.
Flurry, which reckons it detects 80 percent of Android devices through its analytics service, is suggesting that the Android ecosystem is set to be dominated instead by Samsung - which not only makes its own chips but is emerging as the dominant Android handset-maker, at least according to Flurry's stats. This has led Flurry to attempt to coin the term 'Samdroid'.
Before we get into the viability of this term, let's have a look at Flurry's 2010 Android stats. Over the course of last year the total number of Android devices increased almost ten-fold to nearly 60 million.
The reason for Flurry's arousal by Samsung is two-fold. Firstly it went from having a four percent share of the Android market at the start of 2010, to 27 percent by the end.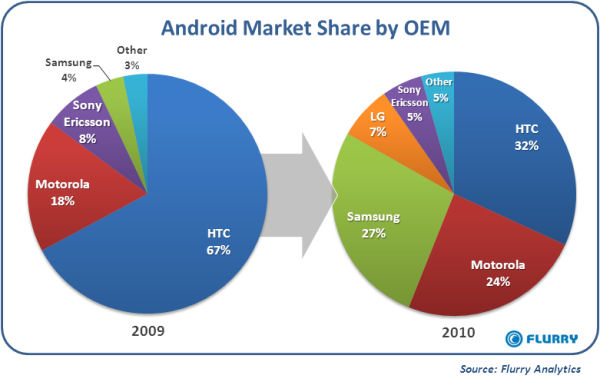 Secondly, the rate at which Samsung took market share accelerated rapidly towards the end of the year thanks to the Galaxy S and the Galaxy Tab.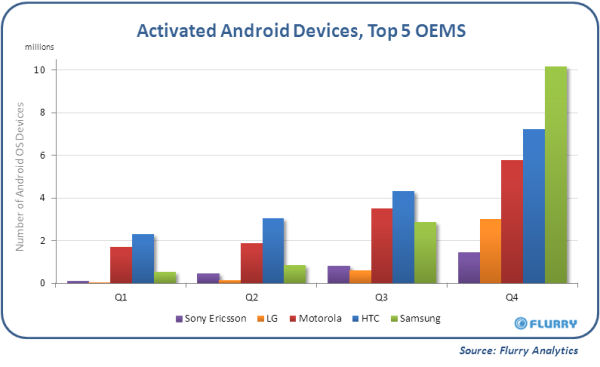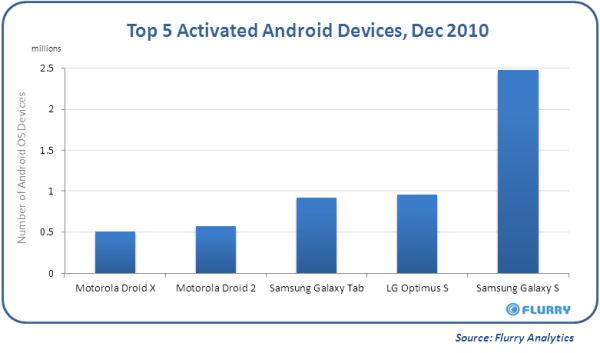 These are all good observations, and Samsung is clearly having a stormer at the moment, having been chosen to make the Nexus S too. But we think any attempt to come up with a mobile equivalent of Wintel is certainly premature and probably futile.
One of the great things about the mobile device market is how much more diverse it is, when it comes to chips and OSs, than PCs ever were. Yes Qualcomm is the big kid on the chip block, but we've also got TI, NVIDIA, Marvell and Freescale, not to mention the fact that Apple and Samsung are making their own.
On the OS side Android does seem to be heir apparent to Windows, but it has to compete with Microsoft's WP7 and Symbian/Meego among the OSs that multiple OEMs can use, and then Apple, RIM and HP have all got their own.
Android will take some beating, as will Qualcomm and Samsung, but there are plenty of companies out with the money, experience and talent to do so. Hopefully this highly competitive environment will continue indefinitely.