Introduction
Portable hard drives have become a commodity item such that most prospective buyers filter on price and capacity. A lack of real innovation in the field - almost all connect to your PC via a USB 3.0 connector - means that companies have to do something unique in order to distract attention away from those cheap 2TB spinners that have become increasingly popular.
One such company bucking the generic trend is Buffalo, predominantly through its line of MiniStation portable drives. There are external drives featuring USB 3.0 or Thunderbolt connections, some that have onboard memory for speed-ups via caching, others touting NFC compatibility, and yet more that feature wireless support for relaying content to your tablet or phone.
Then, of course, there's the hard man's external storage, the MiniStation Extreme. Resistant to shock, water and dust damage, the internal 2.5in drive is housed in a sleek, well-designed shell, so let's take a look.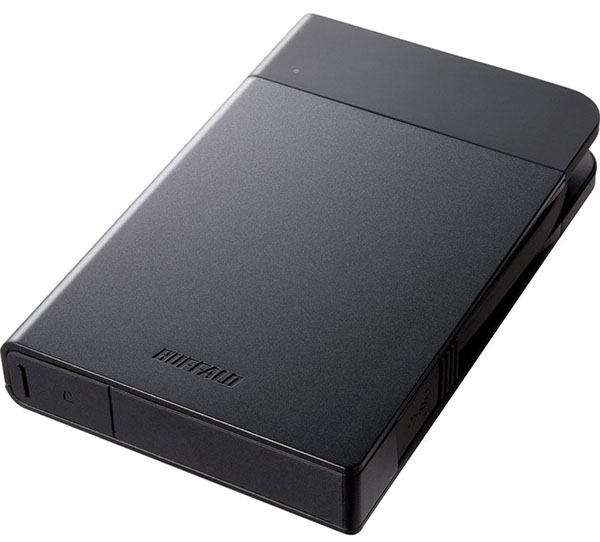 The ruggerdised enclosure, also available in red and silver, has a premium soft-touch finish whose styling is new to the MiniStation range. Buffalo's desire for a more ruggerdised chassis translates to larger-than-normal dimensions for an external drive of 141mm high, 90mm width and 21mm thick - or about the same 2D size as a premium smartphone. Weight, too, is porkier than normal, at 277g.
Available in 1TB (£60) and 2TB (£100) capacities, it's the casing that puts the Extreme in the drive's name. So what, exactly, does it do that others don't? Buffalo says it passes the U.S. Military Standard MIL-STD-810G, Method 516.6, Procedure IV certification, also informally known as the 'drop test'. In common parlance the test requires the device to be dropped from a distance of four feet on to a floor built of two inches of plywood over concrete. The test is performed 26 times.
Point is, accidentally knocking it off the desk or a fumble on public transport shouldn't result in drive failure. Inside the chassis, plate springs hold the drive in place. Four silicon shock bumpers are attached to each corner, as well, mitigating shock.
Further protection is available from water ingress, albeit at IPX3 levels that only cover spraying water - 0.7l per minute over 5 minutes - at a 60° angle. Other ruggederised drives are better, adhering to IPX7, or water resistance when submerged to 1m, though just how many times you'd go swimming with this drive is debatable.
Finally, an anti-dust certification of IP5X doesn't make the drive dust-tight but good enough such that any build-up of dust won't stop it from working. Perhaps less extreme than the name makes it out to be, this MiniStation, nevertheless, provides adequate protection against common problems.
We're fans of the way the USB 3.0 cable attaches or pulls away from the chassis. There's a very snug fit into a holding receptacle but it's not too tight to make access difficult. The USB port is disengaged by pushing your finger up alongside its edge, and Buffalo thoughtfully provides an extension cable in the box.
Deliberately dropping it a number of times off the desk and on to office carpet had no impact on operation, nor did dousing the casing with half a cup of water. These basic challenges are the kinds of protection that Buffalo is aiming at, though, in the interests of fairness, a three-year-old, non-ruggerdised WD drive stood up to the same problems without issue.

No additional power cables are required because USB 3.0 carries enough juice for operation, which is visually shown by a small white LED in the top-left section. Four rubber circles on the bottom offer good grip on most surfaces and, because of the overt protection, drive accesses are far more muted than on a regular portable drive. Given the extra effort Buffalo has made into ensuring this drive better than generic portable models, it's a shame that the warranty is a standard two years, not three.
Buffalo provides security by way of 256-bit advanced encryption standard (AES) full disk encryption (FDE). It's activated by using a lightweight program that requires any content on the drive to be deleted before the encrypted mode functions. The same is true of switching back to the shipping non-encrypted mode. Access is granted via a registered password. Changing modes takes around 30 seconds, mind, so don't assume anything has gone awry if it's not immediately active. The interfaces could do with some tidying-up, rivaling WD's.
Further utilities such as drive backup and Turbo PC are available separately, but we'd recommend Buffalo putting them together in one easy-to-use application.