Performance evalation, conclusion
We begin to gauge drive performance by measuring raw sequential throughput. This is typically a best-case scenario and we have three other portable storage devices in our line-up: a 256GB Patriot USB pen drive, a 512GB SK hynix SSD attached via a cheap-and-cheerful SATA-to-USB 3.0 cable, and a  2TB WD My Passport Ultra.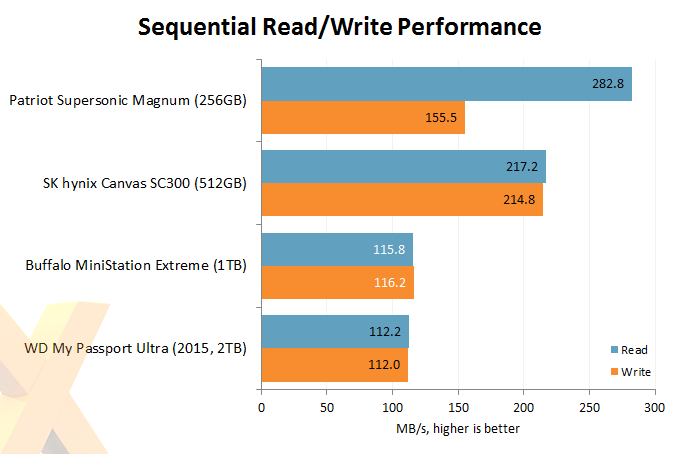 Sequential throughput for most portable mechanical drives tends to top out at the 120MB/s point. Buffalo teams up with Toshiba to house a 1TB, 5,400RPM (MQ01ABD100) spinner. The 9.5mm-high drive is available for about £40 separately, suggesting Buffalo is charging a £20 premium for its enclosure and software.
Users wanting faster access - this drive transfers at 7GB/m - will need to invest in an external SSD-based drive that routinely offers double the performance.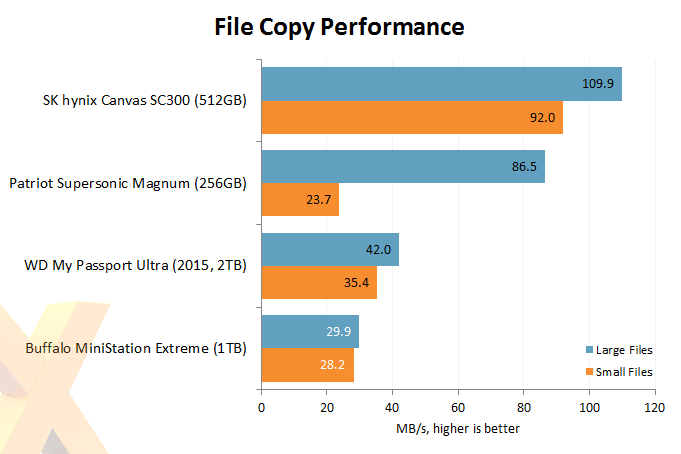 Our second benchmark involves two scenarios; copying across a folder containing large files such as ISOs; and copying across a program folder full of various small files. The latter is a good test of a drive's controller and can trip-up less capable hardware. The performance in this instance isn't quite as hot, evidently, and the WD My Passport Ultra has its number.
Buffalo differentiates the MiniStation Extreme range of portable external drives by providing extra protection than is ordinarily the case. The upshot is a beautiful-looking drive that's quiet in operation and hardy to boot. The casing does make it appreciably bigger than regular 2.5 external storage, if that's an issue, and the price of the 1TB model, at £60, is dangerously close to 2TB versions from other manufacturers, including Buffalo, albeit without the additional shock and dust protection.
We see this drive being handy for the on-the-road business person or student who likes to chuck their computing accessories into a bag without having to worry about the impact such treatment may have on traditional spinning drives. This is the throw-it-in-the-backpack kind of storage, so whilst there's an inevitable premium for doing so, it does make sense for a wide range of people.
Our recommendation would be for Buffalo to up the warranty cover to three years and, if possible, source a supplier for a 3TB model. Other than that, this is a fine example of how to construct durable external storage that also looks the part.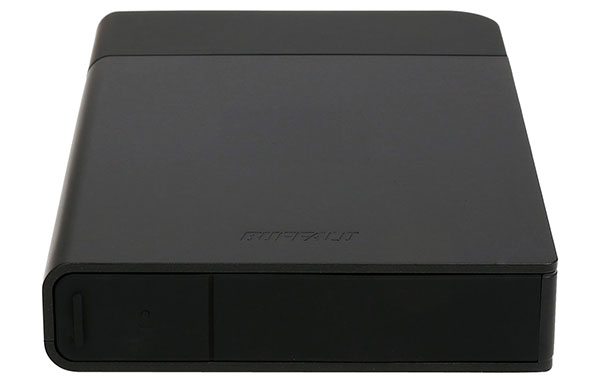 The Good

The Bad

Looks and feels great
Power and data via USB 3.0
Available in a choice of colours
Sensibly ruggerdised

Two-year warranty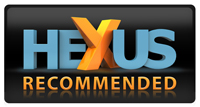 Buffalo MiniStation Extreme 1TB
HEXUS.where2buy
The Buffalo MiniStation Extreme 1TB is available to purchase from Dabs.
HEXUS.right2reply
At HEXUS, we invite the companies whose products we test to comment on our articles. If any company representatives for the products reviewed choose to respond, we'll publish their commentary here verbatim.