USB 3.0 and Ethernet performance
Voyager Air's functions can broadly be split into three categories: USB 3.0-connected storage, a network drive via Gigabit Ethernet, and on-the-go, WiFi-enabled storage, so let's evaluate them turn by turn.
Voyager Air as an USB 3.0-connected drive
The internal hard drive is prepared with the Windows-friendly NTFS filing system, but there's nothing stopping you from reformatting into HFS+ for Apple products; there is no pre-installed software to worry about. Simply plug the SuperSpeed cable, connect to the PC, and away you go.
Acting as a regular hard drive, we tasked it to run the default AS SSD sequential read/write test and to move a 3.35GB folder containing 2,087 files (Windows 8 USB install, incidentally) to-and-fro a Samsung 830 SSD in the host PC. We've taken the liberty of comparing the VA's performance against a super-fast USB stick, also from Corsair, and a 2TB WD My Passport USB 3.0 external drive.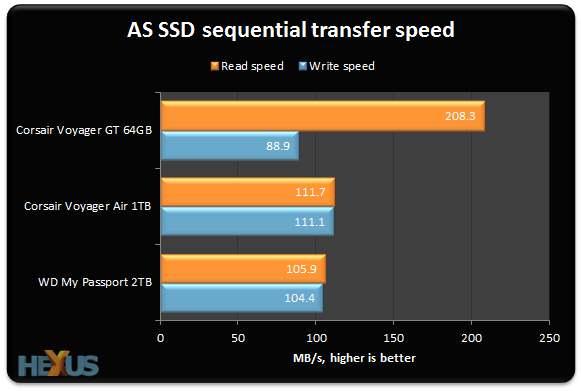 The sequential throughput is important for drives with large capacities; it literally takes a long time to fill 1TB. The VA's read and write performance is practically identical when accessing a virgin drive. Performance is just a smidge better than the WD's.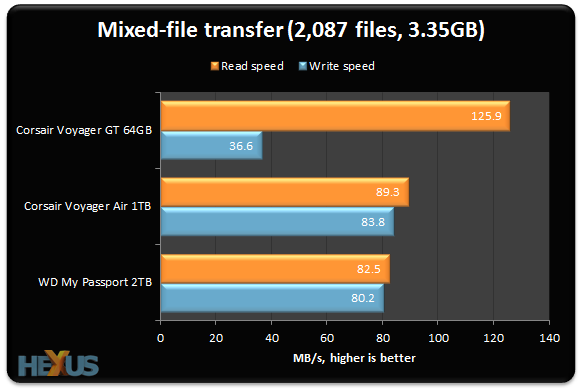 Running a real-world test with a bunch of small files, read/write performance remains consistent; it's much slower than a top-notch flash stick for reading but over twice as fast when writing onto the drive itself. We also moved a large-file, 62GB folder over from the host SSD in around 12 minutes, or at an average 86MB/s.
Voyager Air as a network drive
Accessing the VA via the Ethernet port simply requires a cable to be connected from a switch/router. Windows sees it immediately and, as such, there's no built-in security; anyone with access to the network can see the contents of the drive. Though a tantalising prospect in theory, any Ethernet-fed Internet connection cannot be shared by the VA's wireless capability. This is a shame because enabling such a pass-through would open up access to your multimedia archives - oftentimes 1TB simply isn't enough. Also, this first-generation model isn't DLNA-compliant, meaning data can't be shared to games consoles and modern TVs, but Corsair says a DLNA-enabling firmware update will be available within three months.
An Ethernet connection provides an easy way of pulling multimedia files from a bunch of network-connected PCs. Connected to the host PC via a Virgin Superhub router, the VA managed a sustained 51.4MB/s when moving the 62GB folder back onto the host SSD. Going the other way, from PC to VA via Ethernet, reduced the speed to disappointing 18.2MB/s.