A box of storage tricks
Corsair used the pretext of the Consumer Electronics Show (CES) to launch a multi-purpose portable wireless storage device called the Voyager Air (VA). In its most rudimentary form, it uses a 2.5in mechanical hard drive pre-fitted into an enclosure that's connected to a computer via USB 3.0/2.0. There's nothing novel about that, but what separates the VA from most other portable-storage drives is that the chassis has a built-in battery, wireless connectivity, and a Gigabit Ethernet port. Competing products tend not to incorporate a LAN port on their devices.
The additional trifecta of features means the VA is designed to wirelessly serve content to tablets and mobile phones as well as separately functioning as a basic NAS device when connected to a network/router. When in battery-powered mode, Corsair claims the unit can concurrently pump out five HD-resolution movies to five iOS/Android devices, with battery life rated at up to seven hours.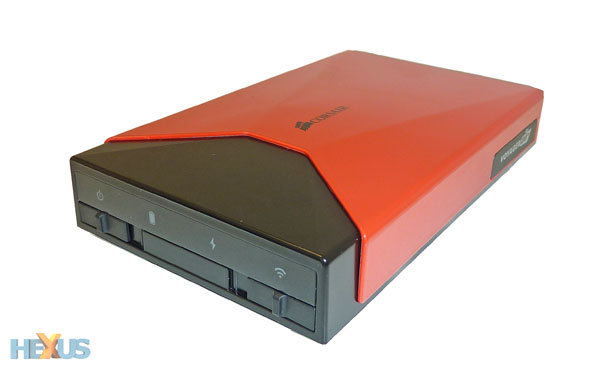 Available in red or black colour schemes and outfitted with either 500GB (£145) or 1TB (£170) hard drives, our review sample is the red 1TB version. It's a shame that, at the outset, Corsair is not selling the VA as a barebones unit, where the user is able to add their own hard drive.
The front is home to four activity lights that indicate power, battery status, charging indicator and WiFi. Two switches, underneath, enable and disable unit power and WiFi, but we find it odd that they need to be flicked in opposite directions for switching their respective function on. We also don't like the mushy feeling when moving a switch from one side to the other; there's a middle ground that, without looking at the lights, feels as if an on/off state has been activated.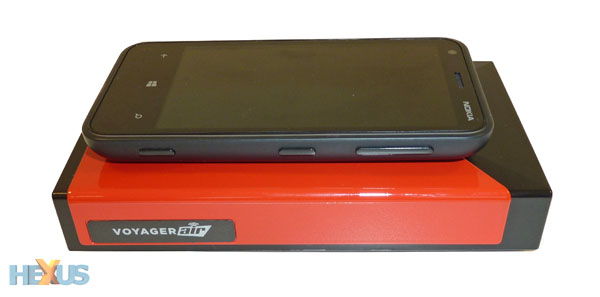 Measuring 140mm long and 83mm wide, the VA is somewhat larger than a Nokia Lumia 620 mobile phone when viewed face-on, but at 25mm high, is significantly thicker. The need to house a battery gives it surprising heft, with our sample unit tipping the scales at a not inconsiderable 360g.
The industrial design is more purposeful than aesthetically pleasing, but rough handling suggests build quality is good; there are no squeaks or rattles unless an unreasonable amount of force is applied.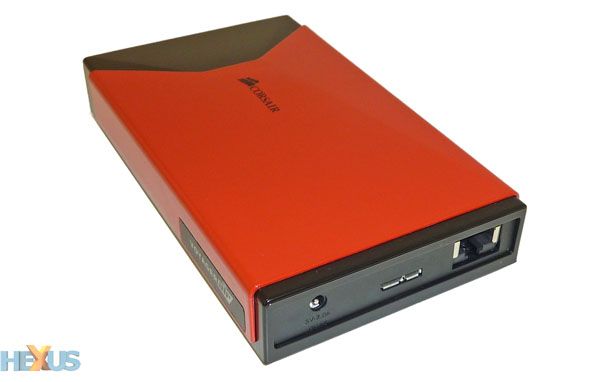 It's possible to charge the built-in battery over USB 3.0 - the connection in the middle - but Corsair also provides a DC-in jack and a 2A USB charger and, rather unexpectedly and nicely, a 2A car charger in the package. A drawstring bag is also included in the bundle. A clear differentiator from other portable-storage devices, the Gigabit Ethernet port is on the right. Looking towards the future, we'd like to see a chassis-integrated USB port and an SD card slot for plugging in additional content.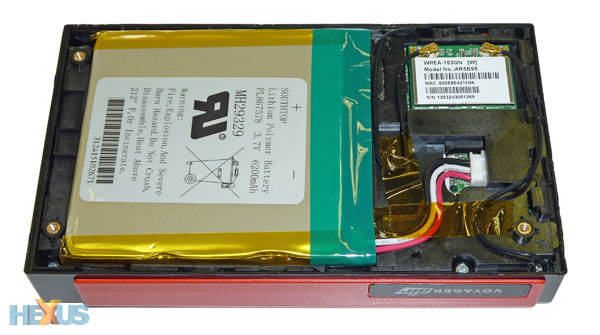 The non-upgradable nature of the VA is characterised by the difficulty we had in removing the bottom cover and exposing the 22.9WHr LiPo battery and single-band Atheros 802.11n WiFi card. The battery is kept secure by cushioning on each side. Access to the 2.5in hard drive requires the removal of this entire section, so we're adamant that any barebones VA will require a different design.
The thick plastic casing and lack of internal fans means the unit is very quiet when powered up and accessing files. The mechanical hard drive can only be heard when deliberately placing it next to an ear. Rounding it off, the pre-packaged nature of the product enables Corsair to offer a three-year warranty.
Current pricing indicates that you'll be paying a £100-plus premium over regular 2.5in, 1TB, USB 3.0 drives for the extra features on the Voyager Air. Let's now examine them in detail.