Settings, the Internet
Devices of this ilk are semi-pointless without a means by which to access the Internet while also being WiFi-connected to the iPad. Internet access needs to be enabled via the settings menu. This section isn't as polished as the main file screens.
For example, on our sample AE400, a couple of the apply/cancel buttons were located below the visible iPad screen. This meant that, unknown to the user, one had to scroll downwards to see them. Make any manifest changes to the password-protected settings and the program required a reboot, with a 30-second restart that, on occasion, would freeze at the one-second mark. We're putting this down to a sample-specific issue. But once configured, we don't imagine you'll be venturing into this sub-menu too often.
Putting the the AE400's Internet-bridging capabilities to the test, we compared the Speedtest results of the iPad connected via the AE400 (left-hand picture) and directly to the Virgin Media Superhub (right-hand picture). Both tests were done within a minute of each other and show, quite clearly, that there's a performance penalty for having the DashDrive bridge the connection - one that's hardly problematic on a single-device connection but may cause bandwidth issues on multiple devices. You might think that this bridging capability makes the AE400 an ideal candidate as a WiFi extender, but it doesn't work in this way, as the router-connected WiFi is always quicker at all the ranges we tested.
Power me up
Coming to the one feature that separates this box of tricks from most portable-storage streamers, the built-in powerbank, we tasked the AE400 to charge a Nokia Lumia 620 smartphone from five per cent battery to 95 per cent while also streaming 1080p content from an SD card over to the iPad. The AE400 doesn't provide granular feedback on the powerbank's battery life, instead relying on a traffic-light system. From a fully-charged start the battery indicator just turned red, meaning <25 per cent remaining, at the very end of the test. Running the AE400 as a wireless transmitter alone, the unit's battery lasts longer than an iPad's; it still had charge after nine hours of continuous streaming.
Final thoughts
The £50 ADATA DashDrive Air AE400 is a multi-function device whose main remit is in acting as a wireless-storage hub and charger for smartphones and tablets. Easy to setup and driven by a downloadable app on the client side, the AE400 works very well when streaming content from an SD card or USB device, though with no built-in storage of its own, users will need to purchase/use their own cards or sticks.

We'd encourage ADATA to spruce-up the settings section of the Apple iOS app - it feels unnecessarily clunky - and work on increasing the speed of the WiFi passthrough, but other than that, it's a solid, well-built product that's surprisingly versatile. A streamer/charger/WiFi bridge/card reader and battery pack in one device, it's a product that, literally and figuratively, is very handy. Recommended.

The Good

Streamer/charger/battery pack in one device
Well-built, performs well
Easy to use
Charge/stream at the same time

The Bad

Settings menu is clunky
WiFi bridging inhibits performance
HEXUS Rating

ADATA DashDrive Air AE400
HEXUS Awards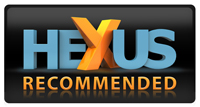 ADATA DashDrive Air AE400

HEXUS Where2Buy
The ADATA DashDrive Air AE400 is available to purchase from Scan.co.uk.
HEXUS Right2Reply
At HEXUS, we invite the companies whose products we test to comment on our articles. If any company representatives for the products reviewed choose to respond, we'll publish their commentary here verbatim.