You can never have too many USB 3.0 flash drives, and if you're thinking about expanding your collection, ADATA's S102 Pro is well worth a look.
Launched as part of the company's Superior Series range and described as a 'value-driven' solution, the drive's purpose is to provide a good level of SuperSpeed USB 3.0 performance at a competitive price.
A choice of 8GB, 16GB, 32GB and 64GB capacities are to be released, in a choice of Titanium Grey or Titanium Blue colour schemes, and we've been sent a blue 32GB sample that currently retails for just £18 at Amazon UK.
The drive's aluminium alloy body looks suitably smart and should keep the drive running cool during extended use, and for a USB 3.0 solution that promises able performance, it isn't particularly big, either. Measuring 61.8mm x 18.7mm x 10.7mm in size, the S102 Pro is likely to fit into most USB 3.0 ports without obstructing any adjacent slots, and with a weight of just 12g it'll go unnoticed when slipped inside a pocket.
Size, weight and aesthetics are all sensible, and we appreciate the fact that the cap, when removed, can be stowed on the back of the stick for safe keeping. The only obvious oddity is the positioning of a small hole on the rear of the drive for attaching a lanyard - it's nice to have the option, but if you do decide to use it you'll lose the ability to easily stow the cap.
Turning our attention to performance, ADATA officially quotes read and write speeds of up to 100MB/s and 50MB/s, respectively, which would make the drive a solid-if-not-spectacular performer.
Our sequential performance test delivered numbers just shy of what's advertised - 83MB/s on reads, 42MB/s on writes - and the S102 Pro, as expected, slots in as a reasonable mid-range solution. It isn't the quickest around the block, and spending extra can pay dividends in terms of overall performance, but we can't recall ever testing a sub-£20, 32GB drive that's as nippy as this.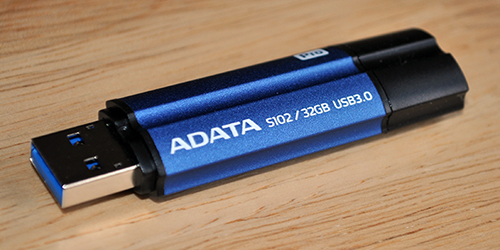 Bottom line: for anybody who has yet to make the transition to portable USB 3.0 storage, ADATA's 32GB S102 Pro is an attractive option. Good capacity, solid performance and a tidy design all for under £20? It's hard to argue against this one.
The Good
Decent performance
Keen pricing
Lifetime warranty
The Bad
Outperformed by premium drives
HEXUS Rating

ADATA S102 Pro (32GB)
HEXUS Awards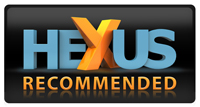 ADATA S102 Pro (32GB)
HEXUS Where2Buy
The 32GB ADATA S102 Pro flash drive is available to purchase from Amazon.
HEXUS Right2Reply
At HEXUS, we invite the companies whose products we test to comment on our articles. If any company representatives for the products reviewed choose to respond, we'll publish their commentary here verbatim.