How it performs, plus conclusion
Hook it up to a USB 3.0-totin' PC and the plug-and-play nature of the ubiquitous conduit makes the BlacX Duet 5G a foolproof device; your gran could use it. Two drives are recognised instantly and to-and-fro transfers feel swift, especially when using an SSD.
We tested the straight-line speed of the dock by placing a well-used Corsair V128 in the slot. This drive was subsequently connected to a single-drive dock, an Icy Box USB 3.0 and, to evaluate the full potential of the drive, to the Core i5 2500K PC via SATA III. We used AS SSD's general tests and a 3.84GB large-file folder, transferring it from the host Crucial M4 256GB drive to the Corsair.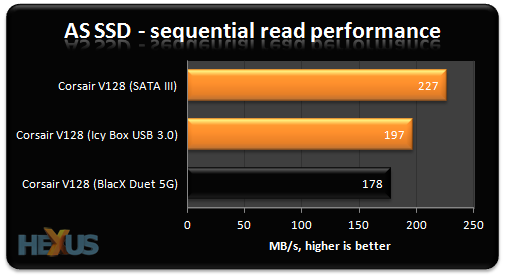 Neither dock can match the speed of a SATA-attached SSD; the translation to USB 3.0 taking a slight hit for sequential performance. The BlacX is a little slower than the Icy Box, by the way.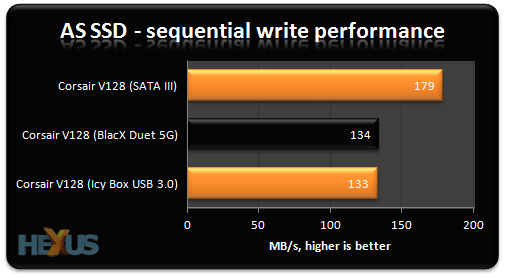 There's dock parity in the writing test, but the in-PC drive is around 33 per cent faster.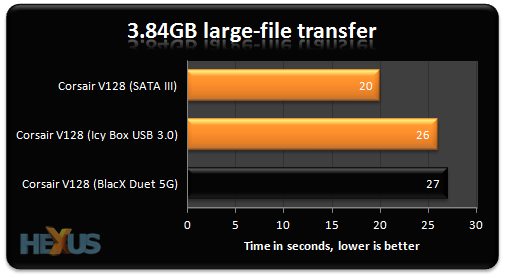 Moving almost 4GB across is speedy via USB 3.0, taking just 27s on the BlacX. Compare this with 131s when attached to a USB 2.0 port.
The Duet is a straight-up dock and there's no hardware method by which to combine two drives for RAID-like performance. Concurrent transfers max out at a combined 120MB/s when writing to two different-technology drives - an SSD and 3.5in mechanical - indicating that USB 3.0 has plenty of untapped bandwidth.
Final thoughts
Backed by a two-year warranty, Thermaltake's BlacX Duet 5G is a two-drive USB 3.0-compatible dock that does exactly what it says on the tin. Useful for folk who need rapid access to files stored on non-networked SATA drives and don't want to duplicate wires and cables, the £50 box of tricks makes sense. We'd recommend the price drop low enough to discourage users from grabbing two el-cheapo docks, to, say, £40, but there's little else to detract from it.
The Good
Supports two drives, obviously
Super-easy to use; simply plug drive(s) in
Reasonable speed from USB 3.0
The Bad
£50 price may discourage some
HEXUS Rating

Thermaltake BlacX Duet 5G
HEXUS Awards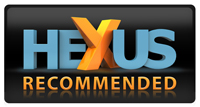 Thermaltake BlacX Duet 5G
HEXUS Where2Buy
TBC.
HEXUS Right2Reply
At HEXUS, we invite the companies whose products we test to comment on our articles. If any company representatives for the products reviewed choose to respond, we'll publish their commentary here verbatim.