Performance and Summary
Though clearly not in the same capacity or pricing realm as most drives in this line-up, we can still evaluate the speed of the 2big Dock against other fast devices. It's important to have really solid throughput due to the size of the drive, of course.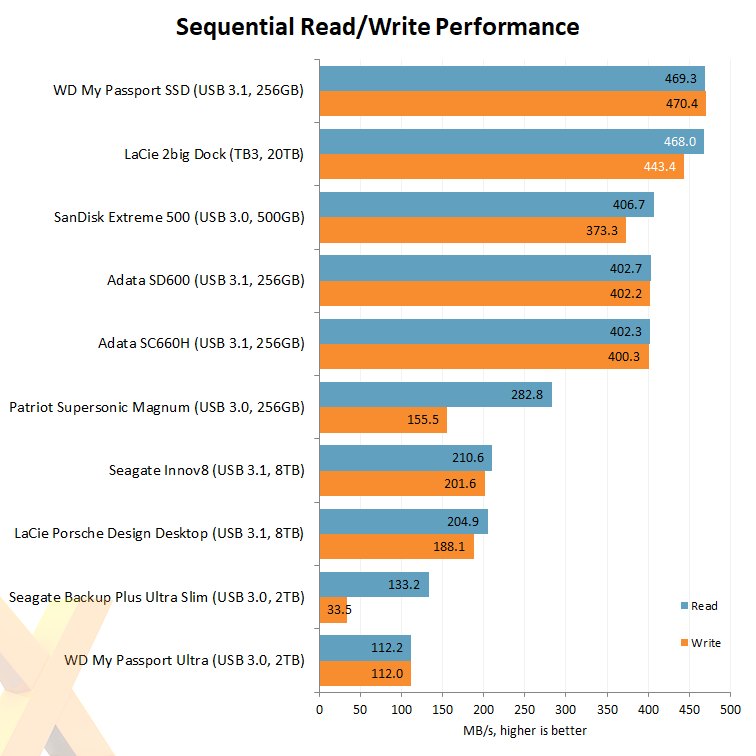 Starting with a simple sequential read and write test, we can get a feel for the drive's performance in a best-case scenario. Raiding a couple of 10TB drives introduces really solid sequential reading and writing speeds, but do be aware of the risk to data should one of the drives go down - there's no redundancy in this mode. Reformatting the pair into Raid 1 reduces the read and write speeds to 247MB/s and 234MB/s, respectively.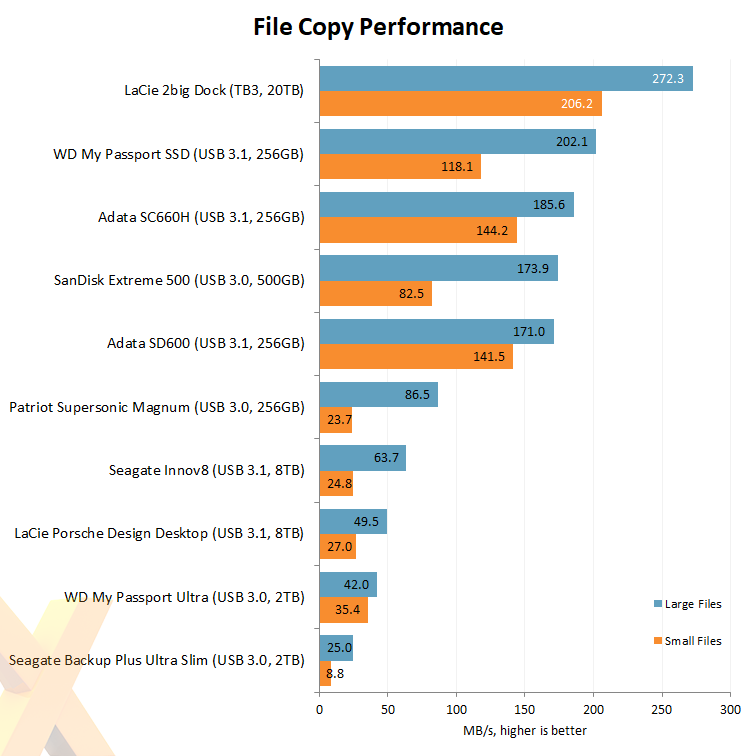 Our second test involves two scenarios; copying across a folder containing large files such as ISOs; and copying across a program folder full of various small files. Again, the virtues of Raid are evident, and the Thunderbolt 3 conduit, offering up to 40Gb/s of bandwidth, has ample room with which to let the drives max out their performance.
We also copied over a 53GB folder full of large files, imitating the kinds of workloads professional users may indulge in, and the LaCie copied over from a Samsung 960 Pro 500GB drive in just a shade over two minutes. Writing back to the SSD in a non-cached state took a hair under two minutes, translating to around 400MB/s in both directions.
Ingesting content is also an important consideration for the 2big Dock. To that end, we connected a SanDisk Extreme 500 external SSD and recorded large-file read and write transfer speeds of 394MB/s and 381MB/s, respectively.
Summary
...a doddle to use and able to transfer large files at around 400MB/s.

Users wanting fast access to a repository of data can either go down the traditional NAS route or, if using just one machine, opt for an external enclosure housing fast drives. This is where the LaCie 2big Dock comes into play. Outfitted with 20TB split over two Seagate IronWolf Pro drives and connected to the system via either Thunderbolt 3 or USB 3.1 Gen 1, the attractive storage solution, backed by a five-year warranty, is a doddle to use and able to transfer large files at around 400MB/s.

The £1,149 price tag, though feeling expensive to a mainstream consumer, is at the lower end of the commercial scale for 20TB of storage, so for those digital content creators who deal with massive files on a daily basis, there's something nice about having a box hold massive amounts of data simply and stylishly.

The Good

The Bad

Looks great
Massive 20TB capacity
USB Type-C and Type-A compatible
Can charge your laptop while in use
Works on Windows and Mac
Keeps relatively quiet

Inevitable price premium
Basic software bundle




LaCie 2big Dock Thunderbolt 3 20TB




HEXUS.where2buy

The LaCie 2big Dock Thunderbolt 3 20TB is available to purchase from Amazon.

HEXUS.right2reply

At HEXUS, we invite the companies whose products we test to comment on our articles. If any company representatives for the products reviewed choose to respond, we'll publish their commentary here verbatim.