Introduction
LaCie has been a name synonymous with premium storage solutions. Purchased by Seagate in 2012, the LaCie brand persists today. The company splits its storage portfolio into personal and professional ranges, and both segments are recipients of attractive chassis thanks to collaborations with leading industrial designers.
The professional range caters for digital content creators who need plenty of fast storage connected via either USB 3.0 or Thunderbolt 3. The d2 selection is available in single-drive capacities from 3TB to 10TB. Those wanting more space need to visit the Big Raid storage section, where a single box can service 120TB.
On the more sedate side, LaCie offers 2big Dock Thunderbolt 3 solutions, which as the name intimates comprises dual mechanical hard drives in a Thunderbolt 3-connected enclosure. The biggest of the bunch is a 20TB solution at a suggested retail price of £1,149.
The Neil Poulton-designed aluminium chassis is rather more attractive than the usual external-storage box. Measuring 217mm deep, 118mm wide and 93.3mm deep and weighing 2.9kg, it fits nicely on a desk. The package contains a 30cm-long Thunderbolt USB Type-C cable, a USB Type-C to Type-A adapter, and an external power supply - black, unfortunately - capable of delivering 60W. This must be used in all circumstances, because there's no method of making the unit operational with a Thunderbolt cable alone.
The front, which is plastic, is home to a large blue status LED that lights up when the device is powered on. Underneath, a USB 3.1 Gen 1 Type-A port can either charge mobile devices by pushing 5W down the wire or, more usually, act as a hub to transfer stuff on to the 2big Dock itself. The same is true of the Compact Flash and Secure Digital ports next door, with these primarily aimed at photographers and video producers who want to get their content over to main storage quickly.
Connectivity
The back is home to the various cabled connections. A power button is located just above the inlet for the external adapter. A short press puts the Dock into a power-saving state by spinning the drives down. Next to it are two Thunderbolt 3 ports, capable of delivering 15W of power to connected devices, and because they are not pre-configured in any specific way, either can be used to hook-up to a Thunderbolt 3 port on a computer or as part of a (up to) seven-device daisy chain, which means five more 2big Docks can be added on top of the original Dock and client computer.
For those who don't have a Thunderbolt 3 connector on their computer, fear not. The USB 3.1 Type-C connector, sandwiched between the firmware update button and DisplayPort output, can be used instead, relying on the same Thunderbolt cable. If you only have a Type-A connector on the computer side, a bundled Type-C-to-Type-A cable is the go-to solution. Going over USB 3.1 increases the client-side power delivery to 27W.
Summing it up, the LaCie 2big Dock connects via either Thunderbolt 3 (over Type-C) or USB 3.1 Type-C to either Type-C or Type-A, meaning you are pretty much covered irrespective of your computer's ports. Keeping cable clutter down to a minimum, the Dock enables the PC's video to be transported over to the monitor, too.
A last few words on connectivity. You should only connect to a single computer via a single cable/port, be that Thunderbolt 3 or USB 3.1. This obviously means that any other combination is invalid, so you cannot connect the Dock to two computers simultaneously using any combination of outputs: one Dock, one computer. The second Thunderbolt 3 connector is there for charging duties alone.
Compatibility And Drives
LaCie's premium storage products have historically targeted the Apple community and the 2big Dock is no different in this regard. The storage box arrives pre-configured with HFS+ formatting used on Mac computers, but this doesn't mean that it cannot be used in a Windows environment. The 2big Dock supports Windows 10-based machines touting Thunderbolt 3 or USB ports, though do be aware that the box will need to be partitioned and formatted by using the LaCie Raid Manager.
Inside, accessed by simply pulling on the drive bays, LaCie predictably uses a couple of IronWolf Pro NAS-optimised 10TB HDDs from parent company Seagate. Offering a 7,200rpm spindle speed and consistent performance supported by 256MB of cache, they are among the best that Seagate has to offer. There's active cooling via a 60mm Noctua fan situated right behind the drives, and it remains on at all times. The unit exhibits a low hum when operational, though seeks do produce a muted scratching noise associated with spinning disks.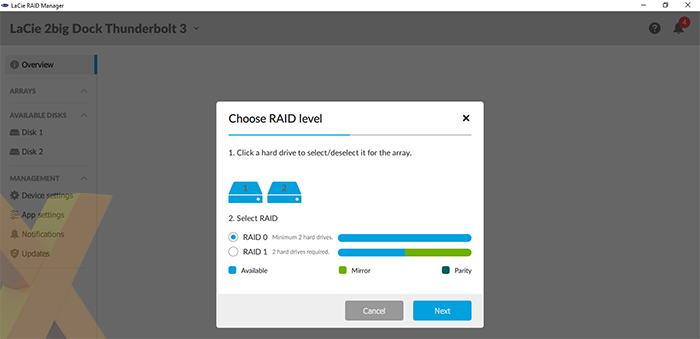 Under the auspice of Raid Manager the drives can be set to run Raid 0 for maximum performance (440MB/s-plus, according to LaCie), Raid 1 for security, reducing the available capacity to 10TB, or as just a bunch of disks (JBOD). There's no possibility of spanning multiple Docks and running Raid 5, for example. For the purposes of testing we ran with performance-orientated Raid 0.
When all set to go, the Dock powers up as soon as either a Thunderbolt 3 or USB 3 connection is mated on both sides. And that's it, 18.1TB of NTFS-formatted space at your fingertips.