Introduction
Can't get enough of RGB lighting in your system? Then having RAM with the appropriate lightage is probably for you. Every manufacturer we care to name has a RGB-laden memory in their arsenal, with each trying to outdo the other in terms of brightness and impact. To that end, Corsair released the Vengeance RGB Pro modules earlier this month.
That makes three LED-lit ranges in the Corsair portfolio. There's single-colour Vengeance LED in capacities up to 64GB and speeds hitting 3,600MHz. Stepping it up a notch, Vengeance RGB brings near-limitless colour in the usual capacities. Improving upon the predecessor, frequencies go all the way up to 4,266MHz for a 16GB kit.
Redesigned Vengeance RGB Pro, available in either black or white heatspreaders, is initially offered in speeds between 2,666MHz and 4,000MHz. All in all there are 27 kits for sale, and each pack uses 8GB sticks to make up either 16GB, 32GB or 64GB capacities. Going all out, the 64GB eight-module kit of 3,600MHz CL18 memory has a recommended retail price of £870. Though undeniably premium, the price is in line with the standard Vengeance RGB set.
So what's new? Corsair has completely overhauled the heatspreader, now using a full-width, largely unobstructed lightbar equipped with 10 RGB LEDs for brighter, more even lighting. Let's take a peek.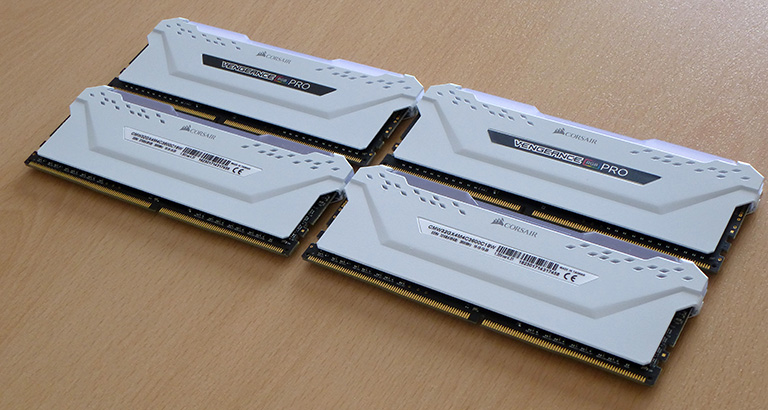 First things first. The modules are unusually tall, standing at 51mm high, up 7mm on regular Vengeance RGB. Most enthusiast RGB modules tend to measure 40-44mm tall, so do be aware of the extra height restriction if contemplating for a small-form-factor PC.
The reason for the increased height is to enable the PCB to house the large, semi-transparent lightbar for those 10 RGB LEDs that are spaced evenly along the top. Corsair has redesigned the heatspreader such that it makes minimal contact with the lightbar - there are two aluminium holding clasps on either side - so the light can really shine through. A sidewise look shows that the vast majority of the housing is on show.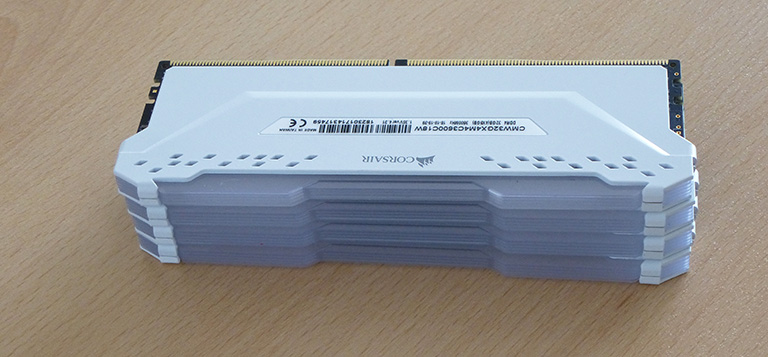 Corsair states official compatibility with both Intel and AMD platforms. That said, the fastest modules with the AMD-approved stamp top out at 3,200MHz. You could choose to run faster modules, of course, but Corsair doesn't qualify them. Compare that with full range of speeds - 2,666MHz to 4,000MHz - for the Intel 300-series platform. It's also worth knowing RGB Pro modules do not appear to have Samsung B-die ICs. We can infer this because no set is equipped with the 14-14-14-34 timings often associated with them, but such an observation would be a mistake. These modules do in fact use the Samsung B-die chips.
These modules are also compatible with Corsair's all-new iCue software, but so are the Vengeance RGB and Vengeance LED. In fact, iCue supports a wide, ever-growing array of current Corsair components and peripherals.
The software provides excellent configurability with respect to colours and patterns. As an all-encompassing software across modern Corsair components, the same effect can be synchronised, removing the need to have specific programs such as Link or previous-generation Cue. One handy feature is dynamic in-game lighting integration, with Ubisoft's Far Cry 5 having ambient RGB lighting reflecting what is happening on screen. A multitude of effects are applied practically instantly, too.
Let's get to the point. You are not looking at these modules from a value perspective or, for that matter, absolute leading-edge speed. The primary, and arguably only, purpose is to have the best RGB-lit RAM. On that front Corsair doesn't disappoint.
They're bright, really bright, and the overall effect is heightened by having a wide lightbar section, very even lighting, and only those two mentioned clasps. They appear brighter than, say, the HyperX Predator RGB, most likely because the lightbar is thicker and taller. Handily, Corsair provides a brightness slider within iCue that works well. You can even turn them off, but that would be pointless.
Corsair sent us a 32GB (4x8GB) pack of DDR4-3,600 memory for evaluation, equipped with 18-19-19-39-2T timings at an enthusiast-standard 1.35V. Let's hit up a few benchmarks before passing judgement.