Introduction
The computer memory market has also latched on to the colour coordination theme with gusto. No matter what colour your build, there's likely to be a matching heatspreader for you. Going further, some companies have added various lighting effects to cater for the enthusiast with an eye on striking design as well as top-notch performance.
Corsair has been one such company. The Vengeance series received an LED transformation last summer. Now, though, said memory is getting the full-on RGB makeover. Enter the Vengeance RGB.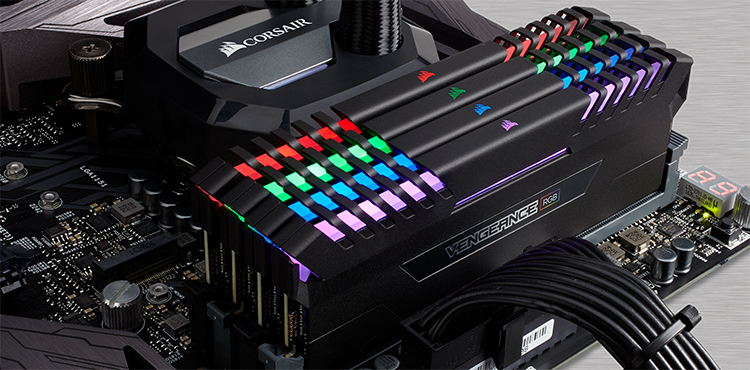 You may know that Kingston already has LED RGB memory on its Predator series, whose lighting is controllable via the motherboard's software, thus relying on the likes of Asus, MSI and Gigabyte to offer full support. The upshot is that the performance X99 platform isn't supported out of the box. Corsair, however, controls its lighting via the motherboard's SMBus and integrates with Corsair Link software, meaning that the modules are vendor agnostic and work on X99, 100- and 200-series Intel chipsets, as well as upcoming support for the X370 chipset that's home to AMD Ryzen.
Any changes in colour or effect are stored on a small portion of memory resident within the modules, so if the RGB memory is run in any non-supported operating system or board, it retains the latest user-defined update. Corsair is planning to have the Link software control and coordinate multiple RGB lighting present on a wide range of products - for example, the same colours on fans, coolers and memory.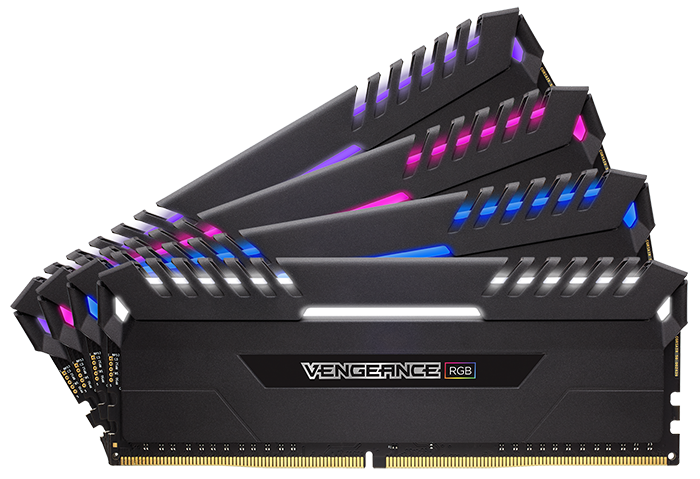 The RGB variant uses the same heatspreader and lightbar combination as the standard Vengeance LED, leading to oversized aluminium heatspreaders that jut out about 15mm above the actual PCB. The sticks are deliberately neutral in colour and thus fit in well with a wide range of systems. The real focus, of course, is on the lighting across the top and middle.
Capacity and speeds are up to date, too. There's 16GB (2x8GB), 32GB (2x16GB or 4x8GB), 64GB (4x16GB or 8x8GB) and if your wallet is deep enough and there's an X99 system waiting to be filled, 128GB (8x16GB). Corsair says speeds start at 2,666MHz and are expected to top out at around 4,000MHz. At launch, 16GB (2x8GB) and 32GB (4x8GB) packs of DDR4-3,000 are available.
Usually, modules with onboard LEDs have lower top-end frequencies due to potential interference from the lighting, but the company has previously demonstrated 16GB (2x8GB) of RGB memory running at 4,266MHz, indicating solid engineering. Note that the modules take their power from the slot; there's no additional cabling needed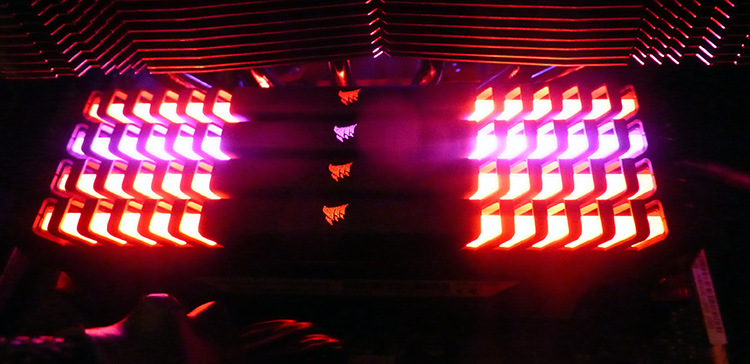 On first boot, our 32GB (4x8GB) pack of DDR4-3,000 memory, equipped with 15-17-17-35-2T latencies and using 1.35V, is suitably bright and vivid. Though there's extra height, we had no problem in installing all four sticks on an Asus Z270F Gaming motherboard that's housing an overclocked Core i7-6700K processor cooled by a massive Noctua NH-D14 heatsink.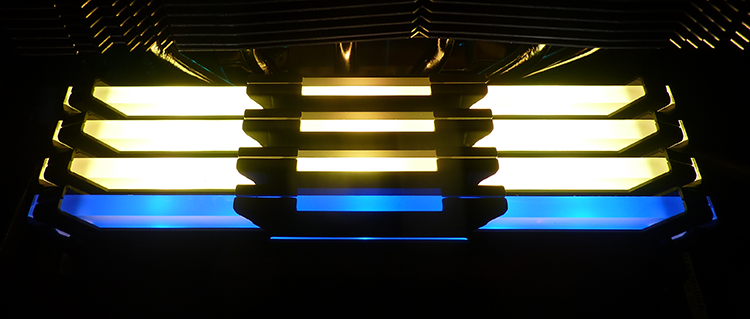 A reversible, removable clip exposes the LEDs underneath. It's clear that Corsair does indeed use the standard Vengeance LEDs as the blueprint for this design, albeit now with a number of evenly spaced diodes offering practically ever colour under the sun. The brightness and spacing do a good job of eliminating light spots, and it's close to being seamless from end to end.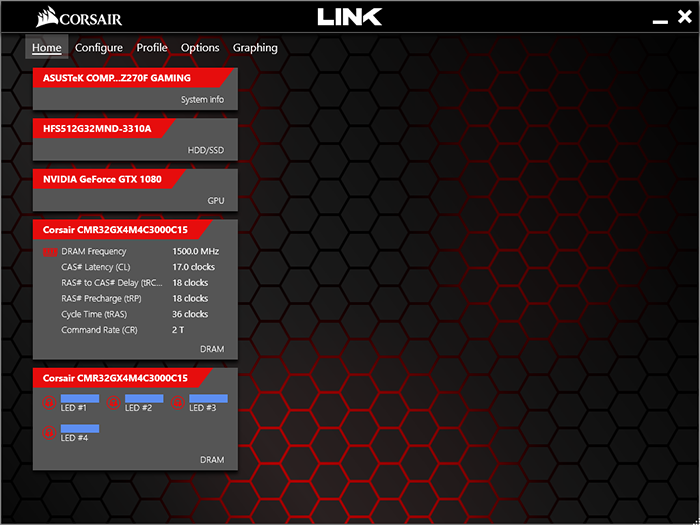 Loading up Link brings you to the basic configuration and reporting screen. Any change in module LED colour is replicated live on the bottom section. Getting into the lighting configuration is as easy as clicking on the modules.
This is where you can choose between one of four lighting modes - static (single colour), colour pulse, colour shift (both of these options go through seven colours) and rainbow. Each module can be controlled individually or grouped for synchronised lighting. For example, on an eight-module X99 setup, you can have four groups of two, with each having its specific lighting effect. It's pretty cool to have your own 'disco' within the case. Of course, this wouldn't be RGB if you couldn't choose between an almost infinite amount of colours so the option is obviously there. However, at this point in time, there's no ability to change brightness; that option will most likely come at a later date, according to Corsair.
Our review 32GB four-module pack of DDR4-3,000 memory fetches £300 at retail, or about 30 per cent more than standard modules of this speed and capacity. Let's now see how it benchmarks.