Cooler Master iGreen Power 600W
Cooler Master iGreen Power 600W
Rated output power
600W
Power specification
ATX 2.2
Power switch?
Yes
Input voltage (AC)
230V, 50Hz
Fan(s)
1 x 120mm
Cable runs
24-pin EATX with split
EPS + P4
2 x 4-pin Molex, 1 floppy
3 x 4-pin Molex
1 x PEG
1 x PEG
3 x SATA
3 x SATA
Max. currents
+3.3V: 20A
+5V: 20A
+12V: 16A, 14A, 8A
-12V: 0.5A
+5vSB: 3A
Max. combined 3.3V & 5V output
166W

The iGreen Power 600W is a triple-rail (+12V) PSU that supports SLI and CrossFire via dual 6-pin PEG connectors, and has support for mainboards with EPS connectors (most commonly required for high-end consumer and workstation board, and servers). The split EATX connector is always a good thing, the two main +12V rails are generously specified in terms of current draw, and the cable runs are sensible (we prefer SATA connectors grouped on individual runs, for example). 16A on the first +12V rail means the next generation of graphics boards can be powered by the PSU.

While the box states universal input voltage, the review unit seemed tailored to U.K. mains supply, but you do get a power switch for completely turning the unit off.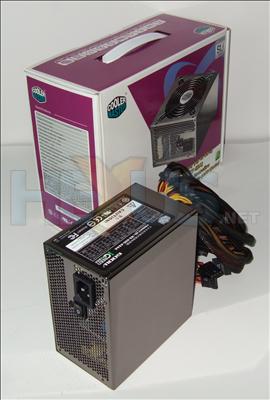 A single 120mm fan takes care of the heat from the unit, and there's a failure notification LED on the rear of the unit that detects over- and under-voltage, over-temperature, over-current, over-power and short-circuit. Cable runs are almost entirely sheathed from end to end, which we love to see, and the box makes note of the unit's supposed high efficiency, which we'll test in due course.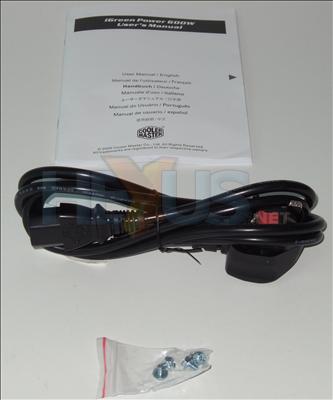 Bundled with a U.K. power cable, short manual and a quartet of retention screws, the Cooler Master iGreen Power 600W keeps the bundle light but features and cable run specs. strong. We'll see how it fares shortly, on to the next supply in the test.