Software and Summary
While most gaming peripherals will function just fine without the need to install additional software, practically every manufacturer is keen to push additional features available via an optional app. Corsair's offering, dubbed CUE (Corsair Utility Engine) has the added benefit of being able to manage multiple Corsair peripherals via one user interface.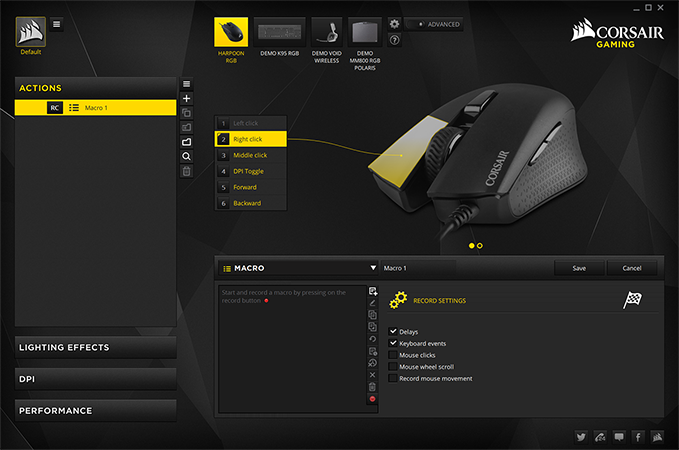 The available features vary depending on connected device, and in the case of the Harpoon RGB, it's an understandably streamlined set of options split into four primary tabs: actions; lighting effects; DPI; performance.
Ensuring a good degree of separation between this mouse and higher-end alternatives in the Corsair catalogue, the software provides the expected core functions without pushing the boat out. The built-in macro recorder works as expected, buttons can be re-assigned to other functions or media shortcuts, and the five DPI profiles are easily adjusted.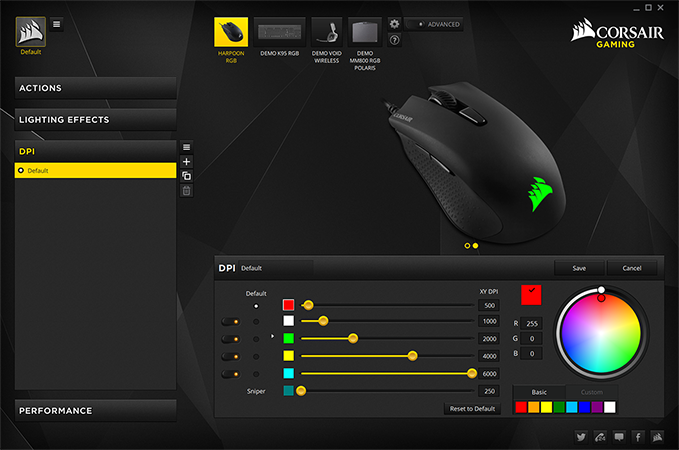 What's missing are the finer tweaking options available to premium Corsair mice. DPI can't be adjusted independently for the X and Y axis, there's no surface calibration, and backlight brightness can't be tweaked - it's either on or off. You can, however, create multiple profiles with ease, and these can handily be linked to programs to activate automatically.
Some gaming software can be overwhelming for casual gamers, yet Corsair's Harpoon RGB implementation gets most things right. It isn't too complicated, the available features are well presented, and though the software isn't necessary it feels like good value as part of a low-cost peripheral.
Conclusion
The sensor is a safe option at this price point, the bundled software is well thought out, and if you're fond of small-and-light mice, the form factor ought to be a good fit.

Having established a firm foothold in the gaming peripheral with an initial flurry of high-end hardware, Corsair has in recent years expanded its reach with the introduction of more affordable options for mainstream gamers.

The latest release is the Harpoon RGB, a £25.99 optical gaming mouse that doesn't break the bank yet manages to tick a fair few relevant boxes. The sensor is a safe option at this price point, the bundled software is well thought out, and if you're fond of small-and-light mice, the form factor ought to be a good fit.

There are, however, a few provisos to consider. The gap between the primary buttons is an acquired taste, as is the left-sided cable position, and while the price is a major attraction, the Harpoon RGB ultimately struggles to deliver the comfort of pricier alternatives.

Bottom line: with tech prices expected to soar in the year ahead, a sub-£30 gaming mouse with six buttons, RGB lighting and a capable optical sensor is frankly a welcome break from the norm.

The Good

The Bad

Available for under £30
Precise optical sensor
Useful bundled software utility
Small and light, if that's your thing

Lighting concealed during use
No left-handed version




Corsair Harpoon RGB




HEXUS.where2buy*

The Corsair Harpoon RGB gaming mouse is available to purchase from the Scan Computers.

HEXUS.right2reply

At HEXUS, we invite the companies whose products we test to comment on our articles. If any company representatives for the products reviewed choose to respond, we'll publish their commentary here verbatim.