User Experience and Summary
Compatibility with only certain Corsair keyboards limits Lapdog's appeal, yet it's worth noting that promotional bundles will be available at launch. Specifically, Lapdog with a bundled non-RGB K70 keyboard will fetch £189.99 (down from £219.98). We've been sent a K70 mechanical keyboard for testing purposes, and as expected it slots in with no fuss and maintains a snug fit.
There's ample room to stow the excess cabling, and with the panels all reattached, the keyboard is securely held in place and doesn't move at all. Lapdog's brushed aluminium topping is such that it's easy to mistake the K70 as part of the unit, though there is a subtle giveaway to the keyboard's right edge, where the mouse pad is slightly elevated, leaving a gap in which dirt may collect.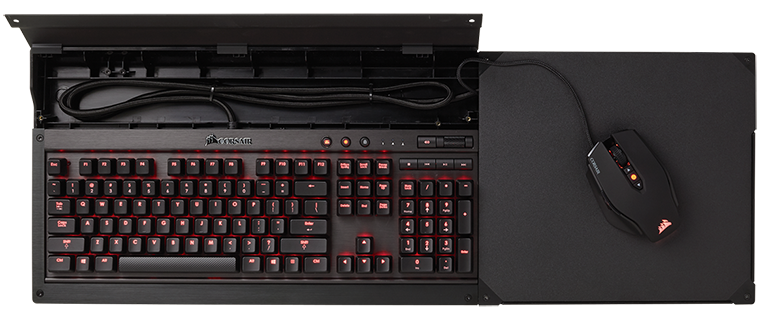 Any USB mouse can be hooked-up to Lapdog's other internal USB port and the wire exits through the side of the cable compartment. Having a proper mouse on a good-sized surface is a real boon for serious gamers, yet the wiring configuration isn't quite ideal. Keeping things tidy with just a short length of cable showing takes away some freedom of movement - you often feel as though the wire is pushing or pulling the mouse in certain directions - and we've found it works best with a larger length of cable pulled out and draped over the back. This isn't as tidy, but it takes away any cable resistance.
Wanting to recreate as much of the desktop experience as possible, Lapdog's two external USB 3.0 ports line the device's right edge and both are capable of supplying up to 1.5A. Handy if you need to quickly charge a smartphone or tablet, and the ports can of course be used for attaching a headset, microphone or a high-speed USB 3.0 storage device.

So what's it actually like to use? Well, it's no desktop replacement. Lapdog's sheer size prevents it from being comfortable, and it feels like having an old Yamaha keyboard resting on your lap. I'm 6'3 with long legs, yet Lapdog still doesn't rest quite right and though the cushion takes away any strain, I feel the need to sit with legs apart in order to prevent any seesaw motion.
Things don't improve a great deal when you do manage to find a comfy spot. The keyboard is so far down the tray that it feels too close to the body, and there's a steep drop-off at the front edge, which feels sharp on your palm. With no wrist support and no desk for your arms to rest on, it doesn't take long for the keyboard experience to become tiring. We aren't convinced, yet if you're passionate about your Corsair mechanical keyboard and you want it on your lap with a good-sized mouse pad, Lapdog works as a means to an end.
Summary
There's merit to the idea of a proper keyboard and mouse in the living room, but there has to be a better way.

Having long since established itself as a reputable purveyor of power supplies, peripherals and other PC accessories, Corsair is now gearing up to make a play for the living room.

The firm's initial push is centred on two key products, Bulldog and Lapdog. The latter, arriving first, is for all intents and purposes a £110 tray designed to stow one of two Corsair keyboard models and a USB mouse.

An interesting approach, as Lapdog attempts to tackle the living-room peripheral quandary in an ambitious and unique way. Whereas other manufacturers have chosen to build a solution from the ground-up, Corsair has experimented with repurposing hardware that was initially designed for desktop use. The theory is to bring high-performance peripherals to the comfort of your lap, yet size and usability is always going to be compromised, and in its initial form Lapdog is suited only to a niche audience.

There's merit to the idea of a proper keyboard and mouse in the living room, but there has to be a better way. The first-generation Lapdog has inadvertently proven that certain PC gaming hardware is best kept confined to the desk, and if there's going to be a Lapdog v2, it'll need to be smaller, wireless and more refined.

The Good

The Bad

Simple K65/K70 integration
Integrated USB 3.0 hub is handy
Magnetic foam cushion works well

Costs £110 without peripherals
Ungainly form factor
Lacks wrist support
Takes up a plug socket
Doesn't provision for lefties
Leaves behind a thick, 16ft cable




HEXUS.where2buy

TBC.

HEXUS.right2reply

At HEXUS, we invite the companies whose products we test to comment on our articles. If any company representatives for the products reviewed choose to respond, we'll publish their commentary here verbatim.