PC component manufacturers realised some time ago that diversification was key to long-term survival. Almost all brands synonymous with memory, cooling, and chassis have given laser mice, gaming keyboards and headsets a go, believing that their know-how would provide a competitive advantage.
Yet excellence in a disparate field can only be achieved by companies who have significant resources. One of the best examples of moving into related equipment and doing it well is industry giant Asus, who has an enviable presence in tablets, phones, notebooks, all-in-one PCs, monitors, networking and graphics cards.
Asus is also strong in headsets, split between the gaming-orientated ROG brand and regular cans, and the latest is the £45 Cerberus, whose multi-purpose connectivity makes it a good fit for both gaming and listening to music.
Look and feel
Presented in Asus's usual black-and-red colour scheme and nicely understated - no crazy graphics or flashy LEDs pandering to teenagers here - the Cerberus is an attractive-looking unit. The 100mm-wide polyurethane-coated leather earcups circle a pair of angled 60mm neodymium-magnet drivers. The removeable boom mic, meanwhile, can be set to any desired position and is connected to the left-hand side, but a secondary in-line mic is built-in for basic chatting when the Cerberus is hooked up to a phone.
This brings us on to connectivity. A braided 1.2-metre (non-removeable) cable has a basic in-line volume control and aforementioned microphone situated roughly 30cm from the headset. The cable ends in a 3.5mm, four-pole audio jack and is therefore compatible with the Sony PlayStation 4 controller passthrough. Asus includes a dual-ended audio/mic splitter cable for PC gaming and a 3.5mm cable/plug extension that's used on certain smartphones or tablets.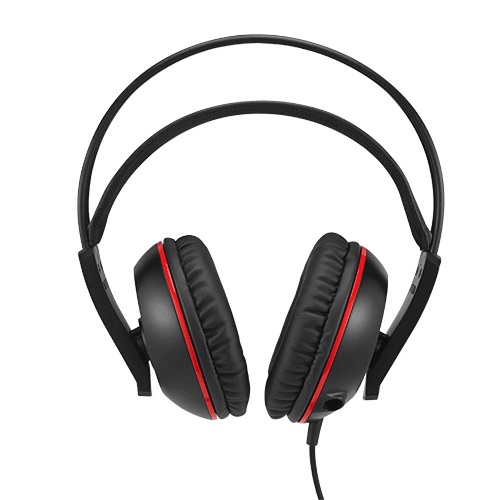 Unlike other headsets, there's no micro-adjustments for the headband. Rather, the Cerberus relies on the springiness of the headband in order to attain comfortable fit.
In use
Cerberus' fit can be best-described as snug, perhaps a little too much so, as the stretchable headband effectively clamps down on your head. After 30 minutes or so of use, the headband begins to feel noticeable, so we'd recommend Asus look at padding it out some. This over-snugness is especially apparent if the purchaser is bereft of hair.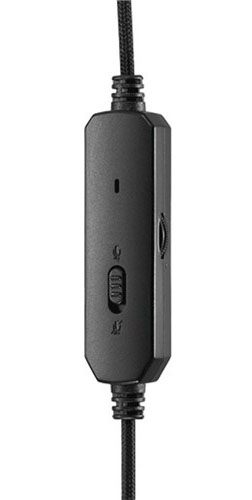 The earcups are a better fit, subjectively speaking, and there's adequate cushioning for this reviewer's ears. Perhaps in concert with the headband, the earcups' pressure feels a touch too aggressive after an hour's use. Perhaps we're used to looser-fitting headsets that let audio slip out. Overall, though, the headset proved comfortable enough for prolonged wearing on my small head, with even pressure throughout, but the lack of manual adjustment may cause issues with larger scalps.
Firing up some music reveals a familiar bass-rich response that can be best-described as boxy when compared to the clean-cut production of the best headphone-only sets. The bass is disconnected from mid-range to a degree, leading to a soundstage that feels incomplete, though don't let that put you off. Cerberus produces a pleasingly neutral sound with modern music, where bass, mid-range and treble are meted out nicely, and it's only with well-recorded instrumental tracks that it's tripped up.
Switching to gaming, which is the Cerberus' forte, puts the headset in a better light. The two 60mm drivers produce clean bass and clear mid-range. For example, it is easy to pick out approaching footsteps from behind while a bass-heavy explosion is occurring in the foreground. Stereo imaging is good, sound is tight and, just like music, rarely strays off what we'd describe as neutral. The boom mic, too, transmits crisp, clear dialogue that's easily picked up by colleagues.
Asus has engineered the Cerberus to be well-fitting, neutral in character and pleasing on the eye, all without breaking the bank. Priced at £45 and capable in most regards, this is a well-thought-out headset that should appeal to a wide range of buyers. There's no flash, no unwanted gimmickry, just good sound in an attractive package.
The Good
Attractive design
Neutral sound
Four-pole connector
Reasonable pricing
The Bad
Headband can feel tight
HEXUS.awards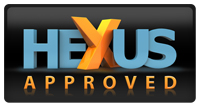 Asus Cerberus Gaming Headset
HEXUS.where2buy
The Asus Cerberus Gaming Headset is available to purchase from Overclockers UK.
HEXUS.right2reply
At HEXUS, we invite the companies whose products we test to comment on our articles. If any company representatives for the products reviewed choose to respond, we'll publish their commentary here verbatim.