Software and Summary
Despite a facelift for iCue 4, the software will look and feel familiar to anyone who has used a Corsair peripheral in recent years. Compatible components are identified and displayed across the top, and synchronised lighting can be applied across the board with a single click.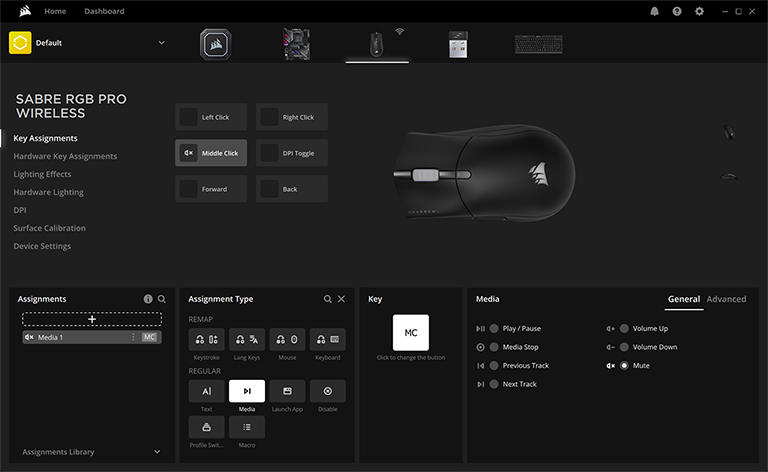 Those seeking further customisation can drop into the Sabre RGB Pro Wireless sub-pages to find all the options you'd expect. All six keys can be reassigned to a full suite of functions, including keystrokes, text input, media shortcuts and complex macros that can include delays and repeats, to be triggered on keypress, on release or while pressed. What's odd is that in its out-the-box state, our review sample arrived with the forward and back buttons assigned to keystrokes 1 and 2. We had to manually remap those keys to forward and back and then overwrite the default profile, and other media have reported the same issue. Very odd, and a sign perhaps of a faulty first batch.
Elsewhere, there isn't a great deal of interest in the lighting sections - the Sails logo can be set to a choice of three preset effects or a static colour - but the DPI section does reveal a useful Sniper function that can assign a temporary low DPI to a button of your choosing. Each DPI stage can be assigned an RGB indicator colour of your choice, and all three hardware DPI profiles are customisable from within the software.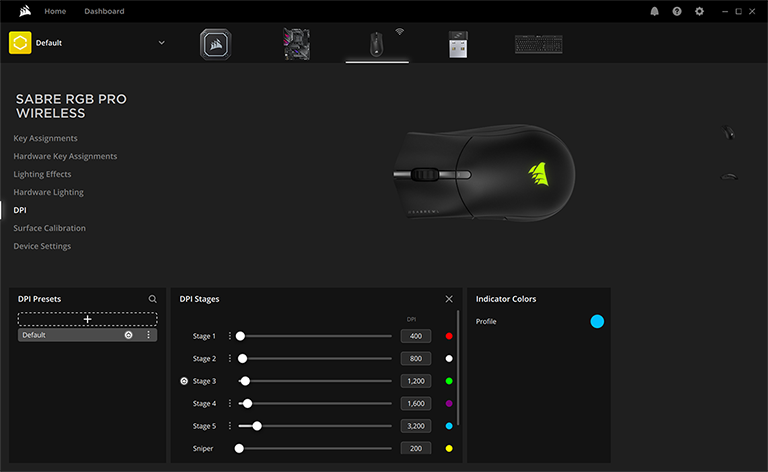 While tweaking the various options, don't forget to dip into the device settings menu, where you'll find firmware updates, an option to disable on-the-fly DPI adjustments, brightness control, sleep settings and the ability to adjust lift height. Last but not least, if you prefer not to load additional software on your system, note that key assignments, DPI presets and hardware can be automatically saved to onboard memory for use on any PC, meaning iCue can be uninstalled once you have the settings the way you want them and the buttons doing what they're intended to do.
Summary
...a versatile solution for those wanting to cut the cord.

Sabre RGB Pro Wireless is an interesting addition to Corsair's burgeoning range of gaming mice. Building on the foundations of the well-received Sabre RGB Pro, the Wireless model includes an improved 26,000 DPI sensor and the ability to roam free through a choice of Slipstream WiFi or Bluetooth connectivity.

Such enhancements make it a versatile solution for those wanting to cut the cord, and almost everything that was good about Sabre RGB Pro has been carried over. The 79g frame remains extremely light and nimble, the dimensions continue to suit large hands, Quickstrike buttons feel as responsive as ever, and though the wireless model doesn't include 8,000Hz hyper-polling, the only real stumbling block in our estimation is a loftier £90 price tag.

Corsair's £40 original remains the obvious choice for gamers who favour a bulletproof connection, but if you absolutely can't be tied down and are willing to pay the premium, there's now a wireless option to boot.

The Good

The Bad

Nimble, lightweight design
Responsive Quickstrike buttons
Bluetooth and WiFi connectivity
Precise optical sensor

Over 2x the price of wired model
Forward and back needed mapping




Corsair Sabre RGB Pro Wireless




HEXUS.where2buy*

The Corsair Sabre RGB Pro Wireless will be available to purchase from Scan Computers.

HEXUS.right2reply

At HEXUS, we invite the companies whose products we test to comment on our articles. If any company representatives for the products reviewed choose to respond, we'll publish their commentary here verbatim.