Corsair has today expanded its RGB portfolio by introducing iCUE LS100 Smart Lighting Strips designed to offer immersive ambient lighting for the desktop PC. Let's take a closer look.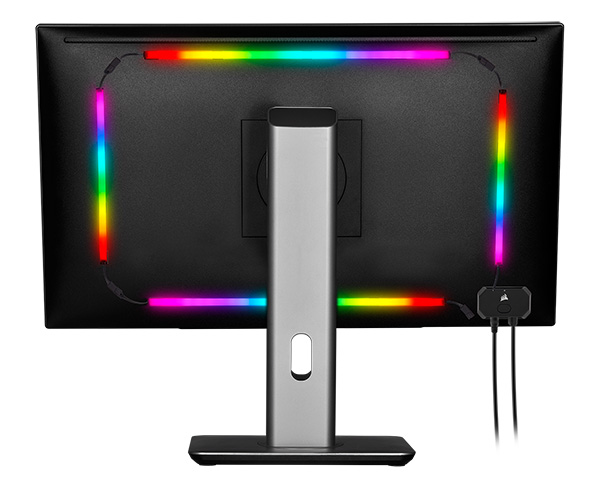 iCUE LS100 Starter Kit, priced at £80, includes everything needed to get you up and running. Specifically, the package has two 450mm strips, each carrying 27 individually addressable LEDs, two 250mm strips, each with 15 LEDs, wiring to connect them to one another, and a two-channel controller. Power is sourced by an external supply while any lighting configuration, via iCUE software, is transmitted over a USB cable. A handy on/off button on the controller means you can switch the LEDs off without having to toggle software or turn the machine off.
The strips are about the right size for mounting on the back of a 27in monitor, but should the required surface be bigger, or you choose to place them around a desk instead, Corsair retails either a pair of 250mm expansion strips (£25) or 450mm strips (£35) separately. Shipping with a total of 84 LEDs across four strips in the box, the controller can actually handle 138 per channel (four long strips, two short ones) and 192 across both, according to Corsair.
Installation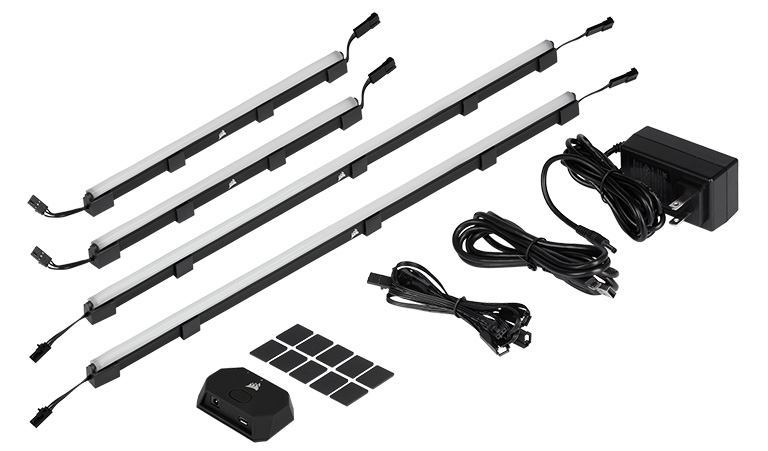 Each strip has a built-in diffuser that softens lighting adequately. Even so, the effect is bright, consistent across the strips, and feels like an enlarged version of the RGB present on premium Dominator memory. I have no qualms about the quality of the lighting.
The 250mm strips each have three central, adjustable feet that slide up and down the strip, while the 450mm have four. Corsair includes 14 matching rectangular pads in the bundle - sticky on one side, magnetic on the other - so installation is as easy as placing the pads in the best locations on, say, the back of a monitor, then moving the adjustable feet on the strips to match their location. The controller, meanwhile, has two similar feet.
The strips themselves are bendy enough to be easily manoeuvred into any reasonable position you like, but the main issue I encountered was that most monitors - and all of the ones in the office - don't have a perfectly smooth back. Many have room for speaker grilles, some have flared sections for effect, others have on-screen control buttons or joysticks there, while all have a bottom section where the HDMI/DP cable, power cable, and USB cable emanate. One has to contend with such obstacles when securing.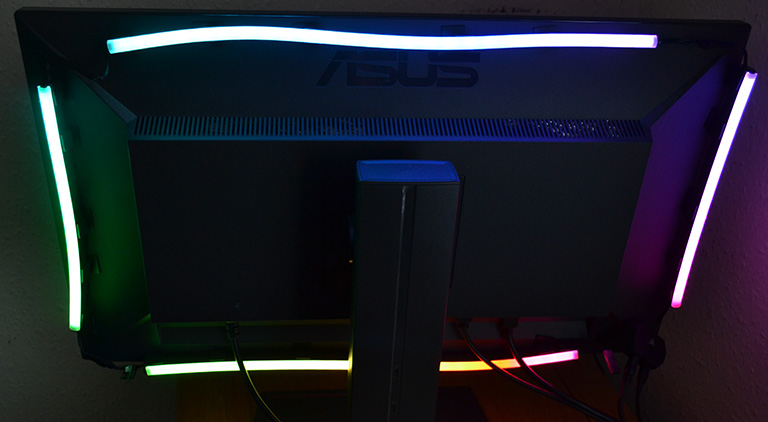 The bendable strips succeed in their primary purpose of providing a decent amount of ambient lighting that covers about five feet of the wall behind the screen, but I do wonder if Corsair could have reduced the cable clutter by one wire. The strips don't use much power, so it ought to be possible to power them by a USB, perhaps on the same wire reserved for iCUE control. I guess Corsair is playing it safe as the controller can handle double the number of strips through its two channels.
Secured via magnetic pads, the attachment is good enough for static usage but won't stand up to any amount of movement. For example, if you are transporting a monitor to an event, you will have to remove the strips and then reattach them later. I'd recommend Corsair look into a more secure method of fastening that might take longer on initial setup, yet ought to provide a more robust retaining mechanism. For example, on a test Asus monitor, the power switch and image-toggling joystick is on the back. Sometimes going around to flick it on would cause the right-hand 250mm strip to lose position, or come off altogether if I inadvertently caught it with my hand.
You don't actually need the controller at all if the default four-colour lighting is fine, and I didn't mind it, but for any configuration, Corsair's all-encompassing iCUE software must be used.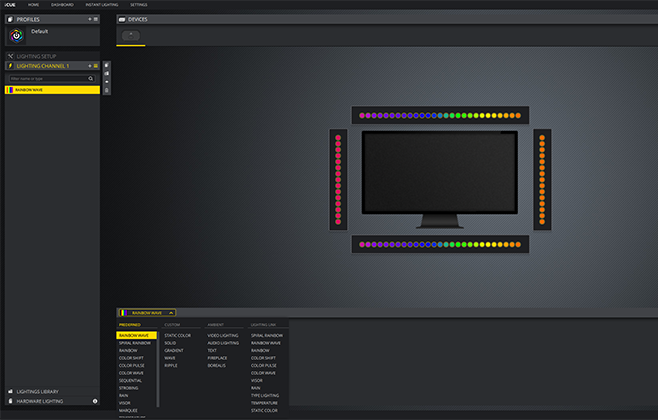 iCUE is where the LS100 kit comes to visual life. The multitude of effects exceed what Corsair offers with its other RGB-laden peripherals, so synching up is easy. Other than the predefined set, which is vast, LS100 also offers specific video and audio presets. The video is the coolest, as the software analyses the colour output present at the edges of the GPU frame (and therefore monitor) and extends it out via ambient lighting. Changing at up to 25 times per second, it's pretty cool, especially in a darkened environment. It's not perfect, as it cannot reproduce darker colours well unless brightness is turned all the way down via iCUE, defeating the ambient purpose, though it adds an extra layer of fun in fast-paced games where the image colour is changing all the time.
After using the LS100 kit for a few days, it's grown on me, and it's nice to see it fire into life as soon as the power is switched on. The ambient lighting is like an enlarged version present on other peripherals, most notably memory, so if you are already heavily invested in the Corsair RGB/iCUE ecosystem, the lighting kit makes sense. And I guess this is exactly where Corsair is pitching it, at consumers who have already bought into its ever-expanding ecosystem.

Having a better, more secure method of attaching the strips would be preferable, a single cable for power/control is also advisable, and, subjectively, a starting price that's £20 lower would encourage non-Corsair-owning users who simply want to dip their toe into immersive RGB waters without spending too much. Overall, the Corsair iCUE LS100 Starter Kit is a first-run product that does what it says on the tin... but I await a Gen 2 model that irons out a few of the wiring and securing problems I came across.
Bottom line: The Corsair iCUE LS100 represents an easy way of adding ambient lighting for your PC.
The Good

The Bad

Consistent, bright lighting
Easy to install
Lots of lighting modes via iCUE



Could do with being more secure
Second power cable necessary?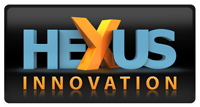 Corsair iCUE LS100 Starter Kit
HEXUS.where2buy*
TBC.
HEXUS.right2reply
At HEXUS, we invite the companies whose products we test to comment on our articles. If any company representatives for the products reviewed choose to respond, we'll publish their commentary here verbatim.